RoboCop 2 *** (1990, Peter Weller, Belinda Bauer, John Glover) – Classic Movie Review 809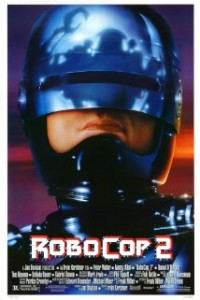 After his big 1987 hit RoboCop, Peter Weller is back again in 1990 as Alex Murphy, the half-man, half machine cop in the snazzy metal suit, with his tough partner, macho lady cop Officer Anne Lewis (Karen Allen).
They're on a mission to battle the evil Old Man (Dan O'Herlihy), who this time assigns beautiful scientist Dr Juliette Faxx (Belinda Bauer) to destroy Murphy's RoboCop and develop the mechanical monster RoboCop 2. RoboCop has to deal with robber gangs who take to the streets while he also tries to root out the makers of an addictive new narcotic known as Nuke which has invaded Detroit led by religious-mad leader Cain (Tom Noonan). Faxx plans to use Cain for her RoboCop 2 as a god on earth.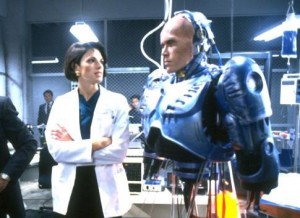 RoboCop 2/Cain's metal body has the symbol for nuclear radiation attached to the chest. Cain has produced and distributed the designer drug Nuke and as a cyborg he is dependent on it.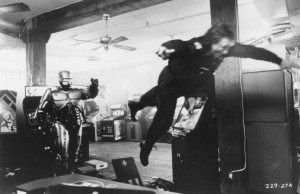 Director Irvin Kershner's underrated 1990 first sequel has a much bigger budget than the original film, costing nearly twice as much at $35 million. It was less popular at the box-office, perhaps harmed by lukewarm reviews, but it's welcome again as dark satire mixes with brutal violence and a complicated plot and involving characters new and old.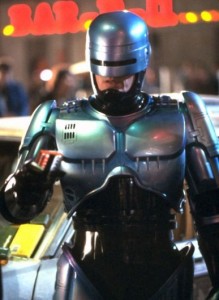 Weller's Robo remains a mesmerising class act, Allen is an appealing humanising presence, and O'Herlihy, Bauer and Cain are a fine trio of villains. You can't fault the performances or the technical skill that's gone into it. Phil Tippett's stop motion special effects are again impressive and Rob Bottin and Peter Kuran's Special Effects work is also notable.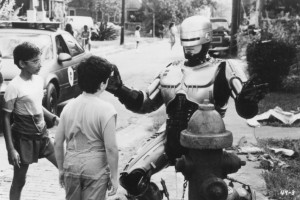 The direction by Kershner, the maker of The Empire Strikes Back, is highly slick and professional and he keeps the movie tense, dynamic and atmospheric.
Frank Miller (Sin City, 300), who wrote the story and co-wrote the screenplay (with Walon Green), has a walkon as Frank the Chemist.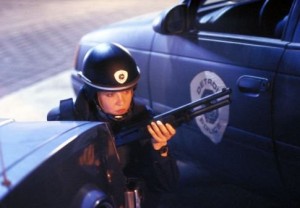 After this, Weller called it a day with RoboCop, perhaps because of its relative failure, and when it was revived again, they made it noticeably less violent in response to widespread criticism of this one.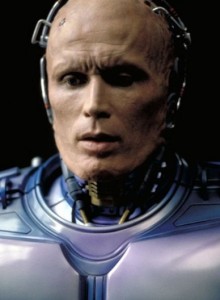 RoboCop continues to fascinate over the years. There was another sequel (RoboCop 3 with Robert Burke in 1993), then a TV series with Richard Eden in 1994-95 and a miniseries of four films with Page Fletcher in 2000 before the spectacular remake RoboCop in 2014 with Joel Kinnaman, reviving the franchise.
© Derek Winnert 2014 Classic Film Review 809 derekwinnert.com