Rio Lobo *** (1970, John Wayne, Jorge Rivero, Jennifer O'Neill, Victor French, Christopher Mitchum, Mike Henry, Jim Davis, Bill Williams, David Huddleston) – Classic Movie Review 3171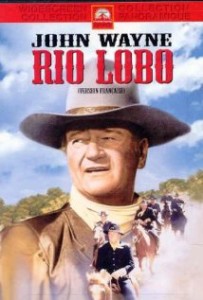 'Give 'Em Hell, John.' Director Howard Hawks's appealing, easy-going late-entry 1970 Western stars John Wayne as Colonel Cord McNally, the ageing Union officer who teams up with former Confederates in pursuit of a bootlegger, the traitor who caused the defeat of his unit and the loss of a close friend (Edward Faulkner). As with the 1969 True Grit, Hawks's last film deliberately plays on the star's advancing years, with Wayne gently sending himself up.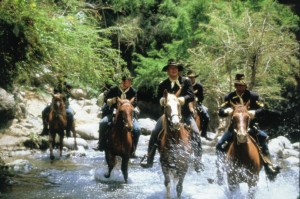 Arguably, the echoes of Hawks's classic Rio Bravo (1959) don't necessarily work to the film's advantage. Yet, still, Leigh Brackett and Burton Wohl's screenplay is bright and breezy, Hawks's direction is lively, the ageing Wayne is still strong, and there's a good cast, with Jack Elam standing out in a fun turn as a gun-crazy rancher, Phillips.
Also in the cast are Jorge Rivero as Captain Pierre Cordona, Jennifer O'Neill as Shasta Delaney, Victor French as Ketcham, Christopher Mitchum as Sergeant Tuscarora Phillips, Mike Henry as Sheriff Tom Hendricks, Jim Davis as Riley, Bill Williams, Susana Dosamantes, David Huddleston, Sherry Lansing, Dean Smith, George Plimpton, Dean Smith and Robert Donner.
When Robert Mitchum visited his son Christopher during filming, Hawks asked him to reprise his El Dorado (1966) role as a drunken sheriff but he said was retired. Wayne said: 'Mitch has been retiring ever since the first day I met him.'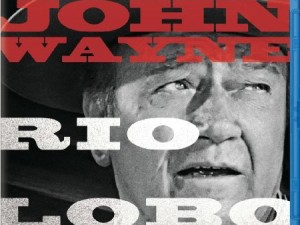 Howard Hawks died on December 26 1977, aged 81. He was also the director of Scarface (1932), Twentieth Century (1934), Bringing Up Baby (1938), Only Angels Have Wings (1939), His Girl Friday (1940), Sergeant York (1941), Ball of Fire (1941), Air Force (1943), To Have and Have Not (1944), The Big Sleep (1946), Red River (1948), I Was a Male War Bride (1949), Monkey Business (1952), Gentlemen Prefer Blondes (1953) and Rio Bravo (1959). Oh, and Land of the Pharaohs (1955).

David Huddleston died on 2 August 2016, aged 85, after playing the title roles in Santa Claus: The Movie and The Big Lebowski.
© Derek Winnert 2015 Classic Movie Review 3171
Check out more reviews on http://derekwinnert.com