Repulsion – Classic Film Review 66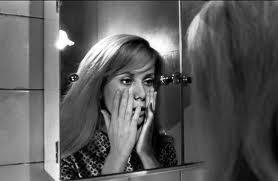 'I must get this crack mended.' How can this ever have sounded more sinister?
Making his first film in English in 1965, Polish director Roman Polanski comes up with a uniquely chilling, dark and disturbing black and white British horror movie. It works searingly in the stripped-bare, fractured style he went on to cultivate in Cul-de-Sac (1966) and, given what happens, it's a masterpiece of internal head-space credibility.
The young Catherine Deneuve stars as Carole, a Belgian manicurist working at a London hairdresser's and beauty salon (Vidal Sassoon's no less) and living in a smallish, claustrophobic flat with her sister Helene (Yvonne Furneaux). Carole distractedly upsets a customer in the salon. Then a hunky, nice young Brit called Colin (John Fraser) sees Carole and arranges a date with her but she pretends she forgets and stands him up ('well, next time you forget, maybe you'll let me know,' he says sarcastically). She can't connect.
But her troubles really start when her sister goes off on a foreign vacation with her married lover Michael (Ian Hendry), whom Carole can't stand, leaving her alone in the empty apartment. Raging internally, she throws his things away. Why?, Helene asks. 'I didn't like them there.' Apparently suffering from paranoia, catalepsy and hallucination, Carole eventually starts to fall completely apart and go homicidally crazy.
There's plenty to argue over what the movie's actually all about, and what Carole's really suffering from, but this serious study in mental breakdown is no cheap horror movie, that's for sure. The screenplay by Polanski and Gérard Brach is a model of intelligence, subtlety and the power of suggestion and understatement. And, though it may be low budget, it's a polished, startling-looking film thanks to Gilbert Taylor's fine, imaginative cinematography on London locations (Earls Court, Hammersmith Bridge, South Kensington) and at Twickenham Studios. All splendidly claustrophobic.
Although it's really a director's and writer's showcase, it offers the opportunity for the young Deneuve to be quite astounding in a stunning tour-de-force of mostly wordless acting. In support, Furneaux, Fraser and Hendry are ideal, and Patrick Wymark gives a memorable portrait of middle-aged randy creepiness as the sweatily grasping landlord desperately and dangerously lusting after Deneuve. Polanski has a cameo as a spoons player.
(C) Derek Winnert 2013