Tunes of Glory **** (1960, Alec Guinness, John Mills, Susannah York, Dennis Price, Kay Walsh, Duncan Macrae, Gordon Jackson, John Fraser, Allan Cuthbertson, Peter McEnery) – Classic Movie Review 4481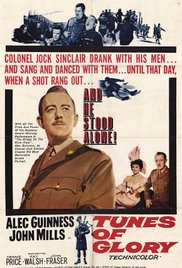 An acting battle royal between theatrical knights Sir Alec Guinness (in a peculiar red wig) and Sir John Mills is the cornerstone of director Ronald Neame's engrossing 1960 British military drama, with the stars notably and fascinatingly cast against type, giving Mills the chance to be the showstopper.
John Mills won the Best Actor at the 1960 Venice Film Festival. Mills later recalled: 'Both Alec and I had marvellous parts and the film was a big success. The word was going round that Alec would win Best Actor at the Venice Film Festival. The presenter came on and said, "The winner is John Mills". Poor old Alec had to go up and make a gracious acceptance speech and pick up an enormous silver cup for me.' It was the Volpi Cup. The film was also nominated for the Golden Lion at Venice.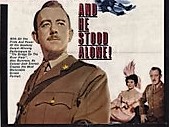 Sir John plays an Oxford-educated martinet lieutenant colonel called Basil Barrow, sent to Scotland to oust boozy Major Jock Sinclair (Sir Alec) as a regiment's commander. Smouldering officers' mess tension ignites and explodes when Guinness hits a soldier, corporal Ian Fraser (John Fraser), whom he doesn't want dating his daughter Morag (21-year-old Susannah York in her film début).
James Kennaway was Oscar-nominated for Best Adapted Screenplay, adapting his own novel, but the screenplay does falter slightly towards the end. The acting from a fine ensemble of British stalwarts is impressive all round, though some of the Scots accents are dodgy, but thankfully Duncan Macrae, Gordon Jackson, Allan Cuthbertson, Andrew Keir, Jameson Clark, Angus Lennie and Andrew Downie are the real thing. The star roles were swapped at Guinness's request.
Also in the cast are Dennis Price, Kay Walsh, Peter McEnery, Paul Whitsun-Jones, Gerald Harper, Richard Rudd, Richard Leech, Percy Herbert, Keith Faulkner, John Harvey, Bryan Hulme, Eric Woodburn, Andrew Downie, Lockwood West, Gwen Nelson, Robert Arnold, Richard Rudd, John Barcroft, James Copeland, Mark Burns, John Bown, William Young, David Webb, William Marlowe, Barry Steele, Keith Banks and Frazer Hines.
Perhaps surprisingly, it was Mills's favourite of his own films. But then again, he beat Guinness to win Best Actor at the Venice Film Festival, which must have been very gratifying.
© Derek Winnert 2016 Classic Movie Review 4481
Check out more reviews on http://derekwinnert.com