Raging Bull ***** (1980, Robert De Niro, Cathy Moriarty, Joe Pesci) – Classic Movie Review 874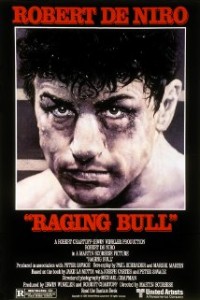 Martin Scorsese's 1980 movie is one of this great director's finest as well as one of the most iconic key films of the Eighties. Robert De Niro gives one of his most astounding performances, winning his second Oscar after his Best Supporting Actor award for The Godfather: Part II (1974), this time for Best Actor.
Boxer Jake LaMotta was in the audience to witness De Niro's victory at the Academy Awards on March 31 1981. That same evening Sissy Spacek won her first Best Actress Oscar for playing singer Loretta Lynn in Coal Miner's Daughter (1980) and Lynn was also in the audience.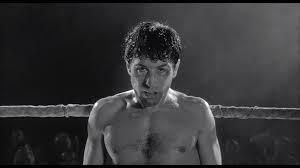 De Niro had extensive physical training and entered in three Brooklyn boxing matches, winning two of them, to play the younger Jake LaMotta, the 1949 world middleweight boxing champion. But then production shut down for four months and he scarily put on a then record 60 pounds to play the out-of-condition LaMotta. Scorsese was so startled by De Niro's weight gain that he shut down production, fearing for the actor's health.
De Niro portrays LaMotta in Paul Schrader and Mardik Martin's screenplay as a brilliant prize-fighter in the ring but in private a self-destructive, repellent, sadistic man raging with paranoia and jealousy and with a strangely sentimental taste for male friendship.
The very same violence and temper that rockets him to the top of the fight game destroys his life outside it. It seems an extremely unsympathetic portrait that condemns LaMotta, yet it is based on his own book (with Joseph Carter). However, when LaMotta saw the movie, he said it made him realise for the first time what a terrible person he had been. He asked his wife Vicki 'Was I really like that?' and she replied 'You were worse'.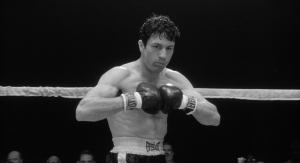 Apart from De Niro's startling, pounding, pummelling performance, Raging Bull is perhaps most valuable for its portrait of the lives and customs of the Italian community in the old days in America and for the sizzling 12 minutes of boxing sequences.  For vibrant immediacy, these scenes are all filmed in carefully choreographed movements with one camera, and the camera is inside the ring throughout for the fight scenes,.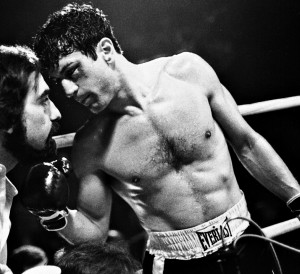 In support of De Niro, there is extraordinary acting, too, from Oscar-nominated Joe Pesci as LaMotta's brother Joey and Oscar-nominated Cathy Moriarty as his embattled wife Vickie. Frank Vincent as Salvy, Theresa Saldana as Lenore, Nicholas Colasanto as Tommy Como and Mario Gallo as Mario also co-star. John Turturro makes his film debut as the man at table at Webster Hall.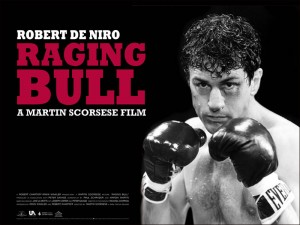 Scorsese is on his most inspired, powerhouse form, triumphantly sweeping all before him with a perfect command of cinema and showing a total delight in it. It is a stunning-looking movie too. Scorsese's cinematographer Michael Chapman films in high-impact, knockout black and white hyper-realistic images.
Thelma Schoonmaker is another deserved Oscar-winner for her eye-catching Best Film Editing. But there were just the two Oscar wins after eight nominations, including Best Picture, Best Director, Best Cinematography and Best Sound. Sound effects for punches landing were made by squashing melons and tomatoes. Sound effects for camera flashes going off were sounds of gunshots.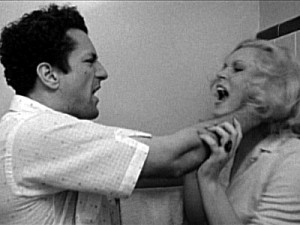 De Niro references On the Waterfront (1954) at the end of the movie where LaMotta is all alone in his dressing room quoting the 'I could have been a contender' scene. Scorsese says nothing should be read into using the quote.
Hershey's chocolate was used for blood to make it look 'real' in the black and white images.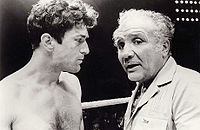 It is claimed in this film that LaMotta was never knocked down but in real life he was knocked down by Danny Nardico in a fight in Coral Gables, Florida.
LaMotta's autobiography omits mention of his brother, as did Mardik Martin's original screenplay, but then Paul Schrader was hired to restructure the script and started to focus on the crucial relationship of the brothers.
It was re-released to renewed acclaim in 2000 to celebrate its 20th anniversary.
RIP Frank Vincent (15 April 1937 – 13 September 2017), who played prominent roles in The Sopranos and in Martin Scorsese's Raging Bull (1980), Goodfellas (1990) and Casino (1995).
age 96.
http://derekwinnert.com/on-the-waterfront-classic-film-review-351/
http://derekwinnert.com/the-godfather-part-ii-classic-film-review-3/
© Derek Winnert 2014 Classic Film Review 874 derekwinnert.com