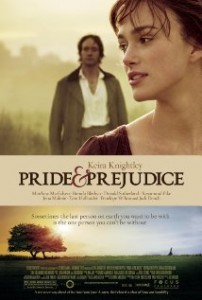 Keira Knightley makes a lovely job of her posh role as Elizabeth Bennet, proud heroine of this first movie of Jane Austen's classic since the Hollywood Pride and Prejudice in 1940 with Greer Garson and Laurence Olivier.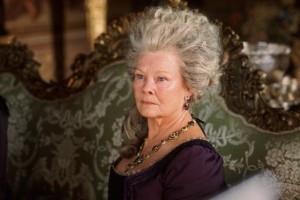 Even so, Knightley is outshone by wily old Donald Sutherland and Brenda Blethyn as her parents, saddled with five marriage-age daughters – Jane, Elizabeth, Mary, Kitty and Lydia Bennet – and very little wealth. Their lives are turned upside down when wealthy young Mr Bingley (Simon Woods) and his best friend Mr Darcy arrive in their neighbourhood.
Matthew Macfadyen is the weakest link as a dull, none-too dashing Mr Darcy, but Tom Hollander (Mr Collins) and Judi Dench (Darcy's aunt, Lady Catherine de Bourg) provide showstopping moments.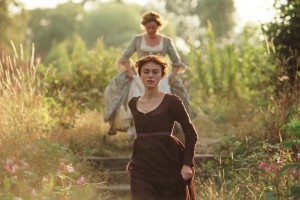 Director Joe Wright's 2005 plush, romantic movie is richly enjoyable, with amusing lines and touching scenes jostling for attention. Although, on the slight downside,130 minutes isn't really enough to do full justice to Austen's great novel.
And it all does seem a mad rush to the finishing post in Deborah Moggach's screenplay and it sorely misses spreading out over television miniseries length and TV's Colin Firth. An uncredited Emma Thompson provided additional dialogue.
The story is based on Jane Austen's novel about five sisters – Jane, Elizabeth, Mary, Kitty and Lydia Bennet – in Georgian England. Carey Mulligan (aged 20) makes her first film appearance as Kitty Bennet, Rosamund Pike is Jane Bennet, Jena Malone is Lydia Bennet and Talulah Riley is Mary Bennet.
Also in the cast are Claudie Blakley, Sylvester Morand, Kelly Reilly as Caroline Bingley, Pip Torrens, Janet Whiteside, Sinead Matthews, Roy Holder, Jay Simpson, Rosamund Stephen, Samantha Bloom, Cornelius Booth, Penelope Wilton as Mrs Gardiner, Peter Wight, Meg Wynn Owen, Tamzin Merchant, Moya Brady and Rupert Friend in his second film as Mr Wickham.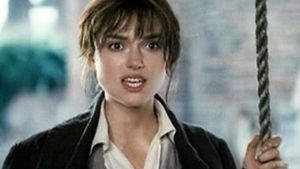 The film offers thanks to the Dromgoole family, all at Sands Films, Andrew and Pippa Reis and family, and the residents and businesses of Stamford, Lincolnshire.
It was fairly costly at $28 million and did quite well to $38 million in the US. [Spoiler alert] It runs he American version is 135 minutes with an extra scene at the end where Darcy and Elizabeth are at Pemberly talking about their happiness.
© Derek Winnert 2014 Classic Movie Review 706
Check out more reviews on http://derekwinnert.com