Porgy and Bess **** (1959, Sidney Poitier, Dorothy Dandridge, Sammy Davis Jr, Pearl Bailey, Brock Peters) – Classic Movie Review 5674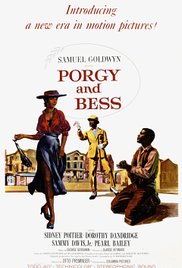 Director Otto Preminger's 1959 film version of the George Gershwin musical about a poor young woman with a disreputable history and the crippled beggar who saves her from the bad guys of Catfish Row in a fishing village in 1912 South Carolina stars Sidney Poitier and Dorothy Dandridge as Porgy and Bess. It won the Golden Globe for Best Motion Picture – Musical.
Poitier and Dandridge are dubbed on the songs by William Warfield and Leontyne Price, who sing the superlative music quite beautifully. Also remarkable are Brock Peters as the baddie (Bess's brutish lover Crown) and Sammy Davis Jr (as drug supplier Sportin' Life), while Diahann Carroll ('Summertime') as Clara and Pearl Bailey as Maria have their moments, too.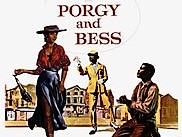 Summertime (music by George Gershwin, lyrics by DuBose Heyward) is sung by Diahann Carroll (dubbed by Loulie Jean Norman) and the Women's Chorus. Other show-stopping songs include 'It Ain't Necessarily So', 'A Woman Is a Sometime Thing ' and 'I Got Plenty o' Nuttin'.
Also in the cast are Leslie Scott, Ruth Attaway, Claude Akins, Clarence Muse, Everdinne Wilson, Joel Fluellen, Earl Jackson, Moses LaMarr and Margaret Hairston.
The play is by Dorothy Heyward and DuBose Heyward, with the libretto by DuBose Heyward. The movie is written by N Richard Nash, shot by Leon Shamroy, choreographed by Hermes Pan, and designed by Oliver Smith, Serge Krizman and Joseph C Wright.
The musical directors André Previn and Ken Darby shared the Oscar for Best Scoring of a Musical Picture. Other Oscar nominations went to Shamroy for Best Cinematography, Color, Irene Sharaff for Best Costume Design, Color and Gordon Sawyer and Fred Hynes for Best Sound.
Rouben Mamoulian, the director of the stage show, was replaced after he and producer Samuel Goldwyn disagreed. Preminger was an obvious choice as replacement as he had recently directed Carmen Jones (1954).
The great opera soprano Leontyne Price (born 10 February 1927) was best known for her Verdi roles, above all Aida.
© Derek Winnert 2017 Classic Movie Review 5674
Check out more reviews on http://derekwinnert.com