Peter Pan **** (2003, Jeremy Sumpter, Jason Isaacs, Olivia Williams, Richard Briers, Ludivine Sagnier, Lynn Redgrave, Geoffrey Palmer) – Classic Movie Review 789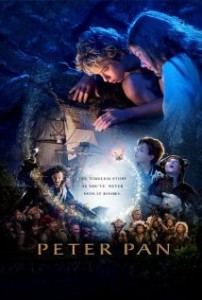 Director P J Hogan's 2003 movie is an excellent, often exhilarating live-action version of Sir James M Barrie's story about Peter Pan (Jeremy Sumpter), the boy who flies to Never Never Land with Wendy (Rachel Hurd-Wood) and fights pirate chief Captain Hook (Jason Isaacs) and his gang of piratical cutthroats.
This is the first live-action sound film version of the story released to cinemas.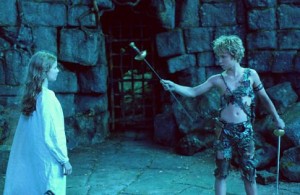 This magical and beguiling film boasts exuberant acting from the right cast, a sumptuous production and gorgeous cinematography (by Donald McAlpine).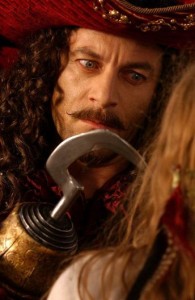 An ideally cast Isaacs has enormous fun as Hook and doubles up as the kids' dad, Mr Darling, Olivia Williams is just right as Mrs Darling, Sumpter is super as Peter, Richard Briers amusing as Smee and Ludivine Sagnier entertaining as Tink.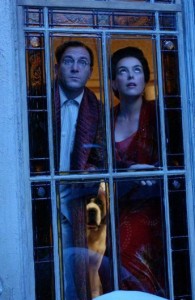 Also essential in the cast are Lynn Redgrave as Aunt Millicent, Geoffrey Palmer as Sir Edward Quiller Couch, Harry Newell as John Darling and Freddie Popplewell as Michael Darling. It is the film debut of George MacKay (aged 11), as Curly, one of the Lost Boys.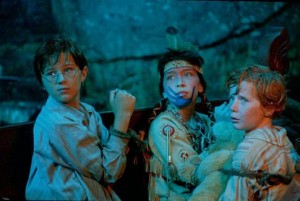 It's hard to imagine this being better done than this. It's the movie Steven Spielberg should have made instead of Hook back in 1991. It doesn't necessarily replace the beloved 1953 Disney animation of Peter Pan, rather it complements it.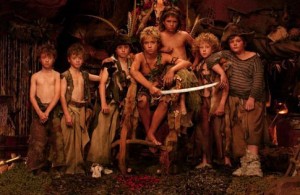 Hogan, the director of Muriel's Wedding and My Best Friend's Wedding, also co-wrote the screenplay with Michael Goldenberg.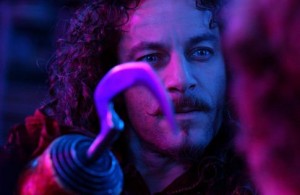 The theatrical version runs
In October 2015, Warner Bros released the origins story movie Pan with Hugh Jackman and Levi Miller.
http://derekwinnert.com/hook-1991-robin-williams-dustin-hoffman-bob-hoskins-julia-roberts-classic-movie-review-1421/
http://derekwinnert.com/peter-pan-1953-walt-disney-classic-movie-review-1416/
http://derekwinnert.com/muriels-wedding-classic-film-review-152/
http://derekwinnert.com/my-best-friends-wedding-classic-film-review-771/
© Derek Winnert 2014 Classic Movie Review 789
Check out more reviews on http://derekwinnert.com/