Our Dancing Daughters **** (1928, Joan Crawford, Johnny Mack Brown, Anita Page, Nils Asther, Dorothy Sebastian) – Classic Movie Review 5953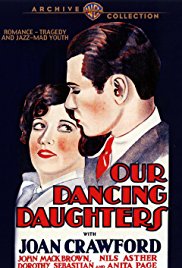 After a series of small roles between 1925 and 1928, Joan Crawford was elevated to star status overnight as fun-loving socialite Diana Medford in director Harry Beaumont's 1928 Our Dancing Daughters.
Crawford is ideally cast as Diana Medford, a wild jazz-baby flapper who lures rich boy Ben Blaine (Johnny Mack Brown) away from his boozy cute blonde wife Ann (Anita Page). It also stars Dorothy Sebastian as simple-minded party girl Beatrice and Nils Asther as her eventual husband Norman.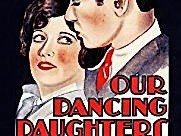 Also in the cast are Kathlyn Williams, Edward J Nugent, Dorothy Cumming, Huntley Gordon, Evelyn Hall, Sam De Grasse, Mary Gordon, Bert Moorhouse and Gordon Westcott.
The movie is a vivacious and exotic Twenties celebration of youth, beauty and bobbed hair. As Crawford's character Diana in the film says, 'It feels good just to be alive.' This heady mixture had audiences flocking to the movie houses. It was Crawford's 25th film and did way more than any other to establish her as a star.
Cedric Gibbons's good-looking Art Deco sets are a period delight, and thanks, too, to George Barnes's black and white photography, this is an extraordinarily handsome movie.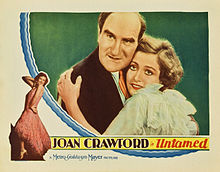 It was made as a silent, but with music and sound effects added.  So now Crawford faced another hurdle – sound. But, no problem, her first talkie, Untamed (1929), was a success.
It is written by Marian Ainslee (titles), Ruth Cummings (titles) and Josephine Lovett (scenario), based on a story by Josephine Lovett, produced by Hunt Stromberg, and scored by William Axt and David Mendoza.
Lovett was Oscar nominated for Best Writing and Barnes for Best Cinematography.
The Turner library print runs 
It was a hit, spawning a little franchise for Crawford, Page and Sebastian, who all returned in Our Modern Maidens and Our Blushing Brides (1930).
 © Derek Winnert 2017 Classic Movie Review 5953
Check out more reviews on http://derekwinnert.com