One Million BC [Man and His Mate] *** (1940, Victor Mature, Carole Landis, Lon Chaney Jr, John Hubbard, Nigel De Brulier) – Classic Movie Review 4451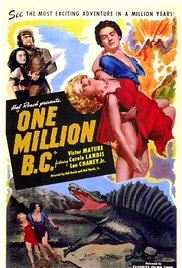 Directors Hal Roach and Hal Roach Jr's daft but different 1940 Stone Age epic fantasy adventure stars Victor Mature, who seems ideally cast as Tumak, a dim-witted caveman struggling for survival. It was immensely popular as the number one new box office attraction of 1940, though it was beaten by the roll-over receipts for Gone with the Wind (1939).
This endearingly old-fashioned film suffers from dated acting styles that are very broad indeed and from what now seem wobbly, unconvincing trick effects, with feeble back projections and poor matching of location filming to studio work. However, the effects were thought to be so good for their day that the film's footage was used in many other movies into the Sixties.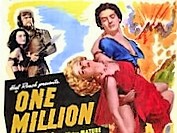 But, nevertheless, despite its drawbacks, it is impressively shot and entertaining, even if the dinosaurs are obviously just hugely magnified lizards. Since lizards do not move in cold weather, heaters were turned on full to get them to move while filming.
It also stars Carole Landis as Loana, Lon Chaney Jr as Akhoba, John Hubbard as Ohtao and Nigel De Brulier as Peytow
Also in the cast are Mamo Clark, Inez Palange, Jacqueline Dalya, Mary Gale Fisher, Norman Budd, Harry Wilson, John Northpole, Lorraine Rivero, Harold Howard, Ricca Allen, Adda Gleason, Edward Coxen, Ben Hall, Creighton Hale, Audrey Manners, Rosemary Theby, Patricia Pope, Chuck Stubbs, Robert Kent and Dick Simmons.
Conrad Nagel is the Narrator.
There is an extraordinary director credit: Hal Roach, Hal Roach Jr and D W Griffith, on whose 1912 short film Man's Genesis it is based. But Griffith, who also worked as producer, quit in the middle of the shoot after a disagreement with Hal Roach, so Roach and his son completed the film. had his name removed from the credits. Griffith said: Mr Roach did not feel that it was necessary to give the characters as much individuality as I thought was needed, and so I did not wish to appear responsible for the picture by having my name on it.'
It was Oscar nominated in 1941 for Best Special Effects – Roy Seawright (photographic) and Elmer Raguse (sound) – and Best Original Score (Werner R Heymann).
It was released in the UK as Man and His Mate, heavily edited because of strict laws against animal cruelty.
It is also known as The Cave Dwellers.
It was remade as One Million Years BC (1966), in which Robert Brown wears the same Akhoba make-up as Chaney Jr here. Ironically Chaney Jr had designed his own make-up, but was not allowed to use it because of the Cosmeticians' Union rules.
© Derek Winnert 2016 Classic Movie Review 4451
Check out more reviews on http://derekwinnert.com