Oblivion **** (2013, Tom Cruise, Olga Kurylenko, Morgan Freeman, Andrea Riseborough, Nikolaj Coster-Waldau, Melissa Yeo) – Movie Review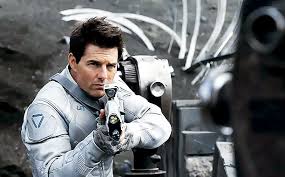 Tom Cruise bravely takes a chance on a smart and intelligent 2013 slice of sci-fi from the director of Tron: Legacy, Joseph Kosinski, who bases it on his own graphic novel original story. And the risk pays off handsomely. It should restore considerable sheen to Cruise's image.
It's the future 60 years from now and Cruise plays Commander Jack Harper, a tekkie security repairman stationed on an evacuated Earth, helping to maintain the drones that are protecting the machines extracting vital resources after a long war with an alien race called the Scavengers because they're still scavenging the ruins of the planet and threatening life there.
Living in the skies, Jack is about to join the remaining survivors on a lunar colony when he rescues a beautiful stranger (Olga Kurylenko), the sole survivor from a downed spacecraft. This triggers a chain of events that causes him to question everything that he thought he knew. That includes weird flashbacks to memories of himself and a woman on the viewing deck of the Empire State Building before Earth was destroyed. How could that be? OK, it's all a bit teasing but that's all you can know safely beforehand.
The movie belongs almost entirely to Cruise. No wonder it appealed to him! He's there on screen all the time, showing off his exceptional running skills, fighting prowess, his hours-in-the-gym toned-up fitness and his neat little face and body shown in massive close-ups and gratuitous shower sequences.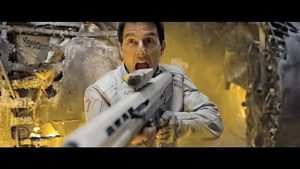 OK, it's a no-acting-required role, so no Oscars, but he's really good. This is an ideal vehicle for him. You could think of actors who could do it as well, but they'd really just be different. He really carves out an effective niche for himself here. This is Cruise's classiest project since War of the Worlds and Minority Report.
Despite this being the Tom Show, there is still a little (admittedly not much!) space left over for Kurylenko, Morgan Freeman as the leader of a guerrilla band of survivors, Andrea Riseborough as Jack's companion, navigator and communications officer, Nikolaj Coster-Waldau as Freeman's revolutionary henchman and Melissa Yeo as the mission control commanding officer overseeing the planet's evacuation.
All of them could have had more to do, more complex roles with wittier dialogue, but there's still enough to allow them to make their mark. Kurylenko is surprisingly effective and winsome in what's essentially a passive, damsel-in-distress kind of role.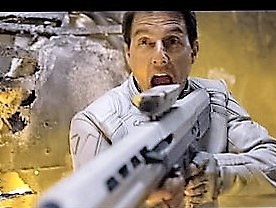 First things first. This is a stunning looking movie. So, a huge drum roll and an enormous cheer for Oscar-winning cinematographer Claudio Miranda (Life of Pi, Tron: Legacy), Oscar-winning visual effects supervisor Eric Barba (The Curious Case of Benjamin Button, Tron: Legacy), production designer Darren Gilford and the highly effective spending of $120million of Universal studios and Relativity Media's money. Rarely has a fortune been as well lavished on a film.
If visually it reminds you of 2001: A Space Odyssey and Ridley Scott's Prometheus, that can't be bad, can it?
Second thing is the original and satisfying plot of the movie. And, despite nods to Wall-E, The Matrix, Independence Day and even Mad Max, it is original. It keeps its twists and surprises to the right moments and, yes, it surprises you. Not in a wish-I'd second-guessed-that-first kind of way, but in an organic, pleasing, relevant fashion. It's not like one of those hokey thriller plots where Hercule Poirot comes in at the last moment and says everybody was lying and this is actually the truth, it was all somebody you never heard of in the first place.
You could guess the plot of Oblivion if you were really clever and really wanted to spoil your own enjoyment of it. But why bother? Just sit back and watch and enjoy the movie.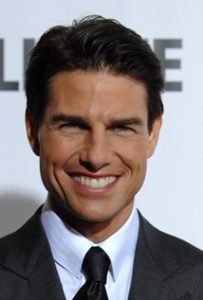 So, then, visuals and story five stars. Performances and direction impeccable. But after that the movie has its downsides. Well, nobody's perfect. This idea might not be popular, but high among the minuses is an abrasive score by composer M83. It isn't that great or distinguished and it's far too damned loud and too darned relentless. It's headache and stress inducing. Nothing and nobody escapes being underlined by the strains of the score. Make the music stop! Well, just occasionally would be nice.
Then again the film aspires to and ambitiously reaches out for epic status, when actually it's entirely safe and sound as a short story, allowing a 100-minute saga to run to 125 minutes. Around two thirds of the way, your bum starts aching and there are scenes that need pruning and pacing up. The film is relentlessly serious, which is often no bad thing in a movie, but here a few laughs, some flashes of wit, some stylish catchphrases and epigrams would help enormously.
Nobody ever smiles here, and you can't either. A bit of lip-smacking from the odd villain or hero, that would be good. A bit of warmth and charisma, good too. This does slightly dent entertainment value.
On the other hand, this is one of the best films of its sci-fi kind for ages. Arthur C Clarke or Philip K Dick would have been proud to pit their name to the source story, and no one can give higher praise than that.
© Derek Winnert 2013 Movie Review
Check out more reviews on http://derekwinnert