Normal Life **** (1996, Luke Perry, Ashley Judd, Bruce A Young) – Classic Movie Review 5131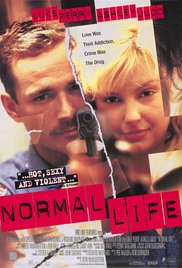 This outstanding 1996 Bonnie and Clyde-style neo noir crime thriller comes from John McNaughton, the director of the highly controversial Henry, Portrait of a Serial Killer (1986).
Former TV sex magnet Luke (Beverly Hills 90210) Perry turns in his best performance so far as an idealistic rookie cop who aspires to the 'normal life' of the American dream, but instead meets and falls in love with a beautiful, unstable alcoholic dame (an equally impressive Ashley Judd), who proves to be his undoing. He turns himself into a cold and calculating bank robber to solve his escalating problems, but it all goes wrong when his girlfriend begs to be included in the robberies.
Naughton achieves an urgent realist style that pays dividends in a film reminiscent of Gun Crazy (1949) and River's Edge. The more the cop wants a 'normal life', the more his story becomes an American tragedy.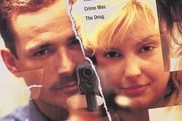 Often exciting, occasionally brilliant, always spellbinding, it is told in flashback in the style of a Forties film noir by an on-form McNaughton, who, throughout, shows that he seems to know exactly what he is doing. It soars miles above the usual true-life TV movie fodder story that heads straight to home video.
Also in the cast are Bruce A Young, Dawn Maxey, Penelope Milford, Tom Towles, Jim True-Frost, Edmund Wyson, Michael Skewes, Scott Cummins, Kevin Mukheji, Kate Walsh, Brian McCann, Kevin Hurley, Brian Blondell, Grady Hutt, Jonathan Lavan, Diane Dorsey, Jennifer Chada, Tony Fitzpatrick, Tony Mockus Jr, Letitia Hicks, Eric Young, Carlton Miller, Fred Stone, Rich Wilkie, Linda Perlin and Stacy Logan.
© Derek Winnert 2017 Classic Movie Review 5131
Check out more reviews on http://derekwinnert.com