Nightmare Alley **** (1947, Tyrone Power, Coleen Gray, Joan Blondell, Taylor Holmes, Helen Walker) – Classic Movie Review 6128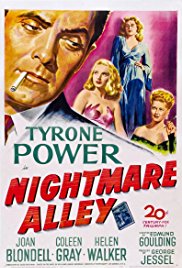 Director Edmund Goulding's haunting 1947 film noir thriller is based on the novel by William Lindsay Gresham. It stars Tyrone Power as Stanton Carlisle, who becomes a carnival barker and a cod mind-reader or mentalist in order to con rich clients.
[Spoiler alert] But he is revealed as a fraud when his wife Molly (Coleen Gray) gets scared, subsequently taking to alcohol before finally becoming a circus freak.
Goulding's movie is a Gothic melodrama that stands out for its extraordinarily independent vision, quite out of synch with regular Forties fashion and commercialism. An ideal Powers, boldly cast against his image, demonstrates his considerable skills as an actor when not confined to being typecast as a romantic lead.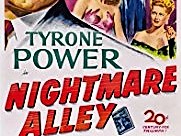 Director Goulding holds together the performances, Jules Furthman's sharp screenplay and the startlingly inventive black and white camerawork by Lee Garmes, moulding them into one of the most darkly cynical morality tales of the Forties. The 20th Century Fox studio boss Darryl F Zanuck found the film distasteful and later withdrew it, turning it into a rarity, until its 2005 DVD release as a Fox noir. The movie's considerable interest lies in how strange, even weird it is.
Also in the cast are Joan Blondell, Taylor Holmes, Helen Walker, Mike Mazurki, Ian Keith, Roy Roberts, James Burke, Julia Dean and James Flavin.
This 111-minute 20th Century Fox release is produced by George Jessel and scored by Lionel Newman and Cyril J Mockridge.
Goulding is also the director of Dark Victory, The Razor's Edge and Grand Hotel.
© Derek Winnert 2017 Classic Movie Review 6128
Check out more reviews on http://derekwinnert.com