Nighthawks *** (1978, Ken Robertson, Tony Westrope) – Classic Movie Review 4969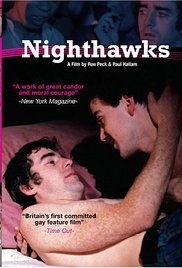 Writer-producer-directors Ron Peck and Paul Hallam's brave, significant and ground-breaking 1978 British film is a well-meaning but depressing slice of Seventies life about a gay schoolteacher (Ken Robertson) who lives a double life. He is closeted in the classroom by day and cruising the London gay scene endlessly at night, just like his counterpart in the later 1980 German film Taxi Zum Klo in fact.
Alas, the performances, direction and writing (with stereotype characters and situations) scarcely rise above the amateur. And, with its topicality largely gone, with AIDS and the Internet changing lives for ever, it all seems part of a long vanished world. But maybe, no actually, it is really valuable just for that. Unlike most gay films before it, it is honest and truthful, telling it like it is, and that's what really matters.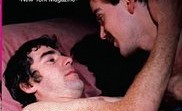 Also in the cast are Tony Westrope, Rachel Nicholas James, Maureen Dolan, Stuart Craig Turton, Clive Peters, Robert Merrick, Frank Dilbert, Peter Radnall, Derek Jarman, Susan Lloyd and Colin Bateson.
The DVD cover claims that it is 'Britain's first committed gay feature film', so it is really valuable just for that, too. Certainly it is the first commercially released gay feature film made in the UK about gay relationships and themes rather than blackmail or murder.
It was released by BFI Video in 2009 in the UK.
© Derek Winnert 2017 Classic Movie Review 4969
Check out more reviews on http://derekwinnert.com