Night Tide *** (1961, Dennis Hopper, Linda Lawson, Gavin Muir, Luana Anders, Marjorie Eaton, Tom Dillon) – Classic Movie Review 4853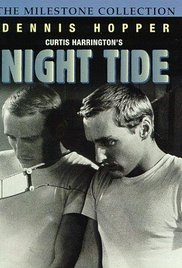 Writer-director Curtis Harrington's atmospheric and suspenseful 1961 American International Pictures horror thriller fantasy drama stars Dennis Hopper as Johnny Drake, an on-leave sailor falling for a dark haired young woman (Linda Lawson) who plays the mermaid in a carnival sideshow. Mora believes that, when the moon is full, she a real mermaid who becomes a habitual murderer, and Johnny begins to believe her.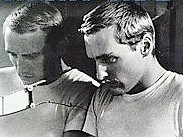 Harrington's intriguingly weird story never quite descends into the realm of total horror, but contains more than its fair share of tantalising surreal fantasy.
One of cult director Harrington's best efforts, it never needs to resort to cheap thrills to remain engrossing. Vilis Lapenieks films in black and white.
Also in the cast are Gavin Muir as Captain Samuel Murdock, Luana Anders, Marjorie Eaton and Tom Dillon, with H E West, Ben Roseman and Marjorie Cameron.
Harrington's screenplay is based in his own short story The Secrets of the Sea, which was finally made available in 2013 in Harrington's posthumous autobiography Nice Guys Don't Work in Hollywood. The story was inspired by Edgar Allan Poe's poem Annabel Lee.
Hopper did his own scuba diving. The $25,000 budget precluded hiring Peter Lorre as Captain Murdock.
© Derek Winnert 2017 Classic Movie Review 4853
Check out more reviews on http://derekwinnert.com