Night of the Demon [Curse of the Demon] ****½ (1957, Dana Andrews, Peggy Cummins, Niall MacGinnis, Maurice Denham, Athene Seyler, Brian Wilde) – Classic Movie Review 500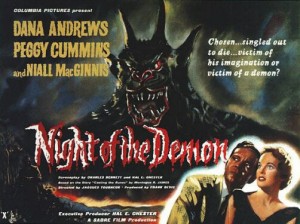 In director Jacques Tourneur's 1957 vintage British horror movie, Niall MacGinnis has a fine old time as occultist and devil cult leader Dr Julian Karswell, who summons up a demon after Professor Carrington (Maurice Denham) threatens to expose his occult works. This unfortunately leads that fine actor Denham to have a supporting rather than leading role in the movie.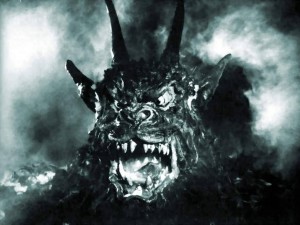 Thus starts Tourneur's distinguished cult spine-tingler starring Dana Andrews as the American occult expert Dr John Holden. He comes over to Britain to attend a paranormal psychology symposium in London with the intention of exposing Karswell. Holden goes on to investigate a series of deaths, perhaps caused by black magic, at the behest of Professor Carrington's niece Joanna (Peggy Cummins).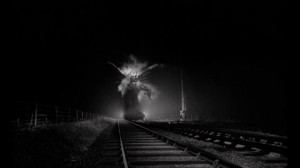 This particularly haunting and suspenseful chiller is a fine exercise in the creepy and the spooky, and, despite its venerable age, it is still always eerie and often quite scary. Its poetic, powerfully ominous atmosphere, the strong performances of the stalwart cast, Ted Scaife's evocative black and white cinematography, and Tourneur's riveting direction combine to be a huge credit to all concerned.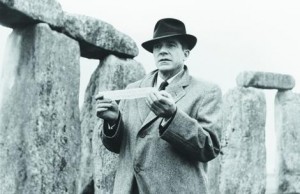 With his dour and brooding presence, Andrews makes an effective hero. A few of today's posh CGI special effects would help the actual demon, but, even as it is, the movie's still pretty memorable.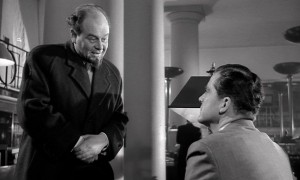 Alfred Hitchcock's 30s writing collaborator Charles Bennett (along with script partner, executive producer Hal E Chester) adapts Montague R James's story The Casting of the Runes into a classic chiller screenplay.
Also in the cast are Athene Seyler, Brian Wilde, Ewan Roberts, Liam Redmond, Reginald Beckwith, Peter Elliott, Rosamond Greenwood, Richard Leech, Lloyd Lamble, Peter Hobbes, Charles Lloyd Pack, John Salew, Janet Barrow, Percy Herbert, Lynn Tracy, Ballard Berkeley, Walter Horsbrugh, Leonard Sharp and Michael Peake.
It was re-titled Curse of the Demon in the US.
© Derek Winnert 2013 Classic Movie Review 500
Check out more reviews on http://derekwinnert.com