Neighbouring Sounds [O Som ao Redor] **** (2012, Ana Rita Gurgel, Caio Almeida, Maeve Jinkings) – Movie Review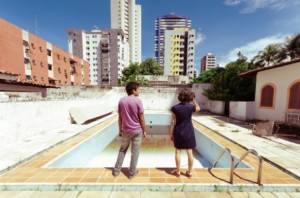 Both in scale and running time this is a truly epic, anxiety-propelled thriller from Brazil, set in its rundown metropolis of Recife, in a street where some rich folks are carefully guarding their nice properties and the nice stuff they have.
Along comes a couple of goons from a 'private security firm' offering their 'protection'. They're told to clear off but promptly, and brilliantly sinisterly, take up office in a tent on the pavement by a street lamp and public phone. It'll be no surprise they have some kind of ulterior motive up their grubby sleeves.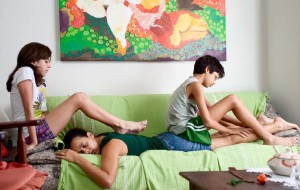 It's their menacing presence that sparks up the thriller part of the story, as well as being a metaphor for something, the menacing presence of the poor in Brazil, I suppose. But the story focuses on three generations of one family living in the street, as well as a few other folk there.
It's got a strangely nightmarish Rear Windowy sort of feel to it. And that's a good thing, of course. Other influences could be David Lynch, Roman Polanski and Michelangelo Antonioni. Fear meets angst meets world-weary; the world out there's an intimidating place.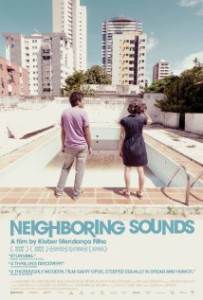 Maeve Jinkings plays Bia, a married mother of two kids, who sets part of the multi-stranded story into action when she ruthlessly deals with the problem of a neighbour's constantly howling dog. Her comfortable middle-class apartment block is presided over, apparently benignly, certainly suavely, by sprightly grandfather Francisco (W J Solha), a handsome, vibrant, intimidating presence.
He's definitely the local mob family boss, the survivor of some dodgy dealings in the long ago, which we're no doubt going to know more about eventually.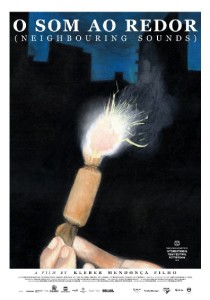 His handsome, sexy grandson Joao (Gustavo Jahn) is in the family business too, working as their real estate agent, and currently enjoying a fruitful relationship with a lovely woman, Sofia (Irma Brown). Small incidents, as well as sounds, spark off the mood of menace.
After Joao and Sofia are caught in bed by their old housemaid, Sofia finds her car stereo's been stolen and Joao accuses his hot-headed young cousin Dinho (Yuri Holanda). That's where the security patrol comes in and its creepy boss Clodoaldo (Irandhir Santos) too…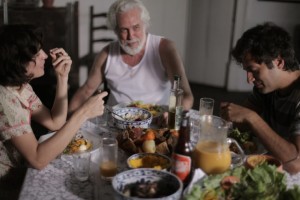 At times this certainly seems to be effortlessly descending into soap opera territory, admittedly a posh, very adult, late-night soap opera. Then again, it goes all arty for a bit, after all this is the thriller as art movie.
But at others, the mystery/menace/past secrets plot goes very thrilllery, very Hitchcockian and very satisfactory. It's great to have something that takes some familiar elements and builds something completely different. In the end, it's a film like no other.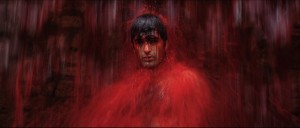 In his first feature, writer-director Kleber Mendonça Filho does it all in style, often in brio style. Its noirish cinematography is an exercise in brilliance, establishing mood and atmosphere so well that it's a leading character in the film in its own right.
Script wise, Neighbouring Sounds manages to carve out a space as a very unusual movie, and it will appeal to all who suffer from bad neighbours and are sorely disturbed and troubled by surrounding street noises from annoying pets, infuriating TVs and stereos, cars. Speaking as a central Londoner, that's me.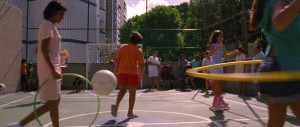 I loved the end of this movie, by the way. It really goes out with a brilliant bang. The long ride is well worth the wait.
It's won some awards internationally, but surprisingly no big ones. It's the kind of film you'd think would have run off with the Palme D'Or at Cannes, but it's had to settle for Best Film and Screenplay back home. We could give it some awards here in the UK, a Bafta or London Critics Circle award. It deserves it.
It's the kind of film critics and industry folk like but the public stay away from. No need to avoid this at all, it's special.
Showing at the London Film Festival, Vue Cinema Leics Sq October 17, Curzon Renoir October 21 2012.
UK release date 22 March 2013.
© Derek Winnert 2013 Movie Review
Check out more reviews on http://derekwinnert.com