Mystery Men **** (1999, Geoffrey Rush, Greg Kinnear, Ben Stiller, Janeane Garofalo, William H Macy, Hank Azaria, Kel Mitchell, Paul Reubens, Wes Studi) – Classic Movie Review 161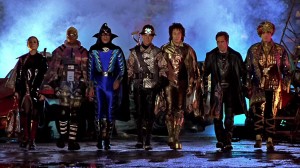 The seven Mystery Men come to the rescue after the incredibly wicked Casanova Frankenstein (Geoffrey Rush) seizes his amazingly nice nemesis, Captain Amazing (Greg Kinnear). Capt Amazing, aka Lance, has foolishly released Frankenstein from captivity so that he can generate more endorsement revenue. Now of course Frankenstein is hell bent on destroying Capt Amazing and Champion City.
What's needed, of course, is Superman, but apparently he's not available. So this time there are just seven folk between life and death. And, unfortunately, the fate of Capt Amazing and the city is in the clumsy hands of loser wananbe superheroes Blue Raja (Hank Azaria), Bowler (Janeane Garafolo), Shoveler (William H Macy), Invisible Boy (Kel Mitchell), Spleen (Paul Reubens), Mr Furious (Ben Stiller) and Sphinx (Wes Studi).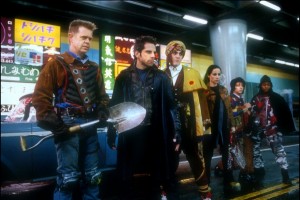 They all have silly super-powers of course – respectively, that would be fork-flinging, bowling-ball-hurling, being invisible when nobody's looking, farting, being angry and being mysterious. Doesn't look good for the fate of Champion City, does it?
The extremely likeable, all-star comic cast shows off its super-talented comedic skills and goes into splendidly OTT, over-acting overdrive. Nobody can accuse them of not doing their absolute darnedest for this insane, and often hilariously silly 1999 comedy based on Bob Burden's Dark Horse comic strip.
It may be occasionally patchy and slightly overlong but it is a brilliantly valiant attempt at a campy superhero spoof and a good time is guaranteed. And all these years later, we still remember it and long for a sequel. Why is there a Kick-Ass 2 and no Mystery Men 2? It's a mystery.
Kinka Usher directs; Neil Cuthbert wrote the screenplay. It also stars Lena Olin, Eddie Izzard, Claire Forlani, Tom Waits, Pras Michel and Artie Lange.
© Derek Winnert 2013 Classic Movie Review 161
Check out more reviews on http://derekwinnert.com