Mr Holland's Opus **** (1995, Richard Dreyfuss, Glenne Headly, Jay Thomas, Olympia Dukakis, William H Macy) – Classic Movie Review 5569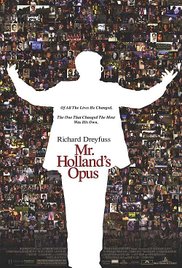 Oscar nominated as Best Actor, Richard Dreyfuss is excellent as Mr Glenn Holland, a music teacher recalling his 40-year career – and his failure as his true vocation of being a composer – on the verge of his retirement.
Director Stephen Herek's sterling 1995 drama is a thoroughly nice, warm-hearted movie that is sweet and sentimental in the best possible spirit.
It is very well acted by its strong and appealing cast (Glenne Headly as Iris Holland, Jay Thomas as football coach Bill Meister, Olympia Dukakis as Principal Helen Jacobs, William H Macy as Vice Principal Gene Wolters), is well written by Patrick Sheane Duncan and is involvingly handled by director Herek throughout its long running time of 143 minutes.
Also in the cast are Alicia Witt, Terrence Howard, Damon Whitaker, Jean Louisa Kelly, Alexandra Boyd, Beth Maitland and Joanna Gleason.
Surprisingly, it is Dreyfuss's only Oscar nomination, other than his Best Actor win for The Goodbye Girl (1977).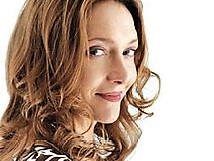 It is one of the best movies of Glenne Headly, who died on June 8 2017, aged 62. She also starred in Dirty Rotten Scoundrels (1988), Dick Tracy (1990), Mortal Thoughts (1991), 2 Days in the Valley (1996), and Don Jon (2013).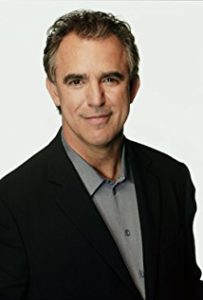 RIP Jay Thomas (1948–2017). He played the Easter Bunny in The Santa Clause 2 (2002) and The Santa Clause 3: The Escape Clause (2006) and also appeared in Legal Eagles (1986), Straight Talk (1992), A Smile Like Yours (1997), Dragonfly (2002) and Labor Pains (2009).
© Derek Winnert 2017 Classic Movie Review 5569
Check out more reviews on http://derekwinnert.com