Mine Own Executioner **** (1947, Burgess Meredith, Kieron Moore, Dulcie Gray, Barbara White, Christine Norden) – Classic Movie Review 5854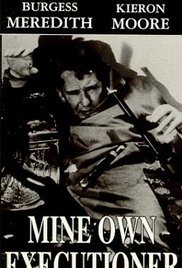 Director Anthony Kimmins's 1947 British film noir thriller of Nigel Balchin's distinguished novel is deservedly admired, with Balchin providing his own admirable screenplay.
The story is about a psychiatrist, Felix Milne (Burgess Meredith), who is about to leave his fussy wife Patricia (Dulcie Gray) for sexy Barbara 'Babs' Edge (Christine Norden), when he is asked by Molly Lucian (Barbara White) to cure her potentially homicidal war veteran husband, Adam Lucian (Kieron Moore), of his dangerous schizophrenia.
Babs decalres: 'There's nothing worse than a man who makes you take off your self-respect, and keep your clothes on.'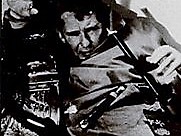 It is unfortunately a dated feeling film, but it still comes over as intelligent and suspenseful. It is well and imaginatively handled by director Kimmins and distinguished by one of the excellent, esteemed Meredith's finest displays of acting, with the rest of the strong cast on good form too.
Also in the cast are John Laurie, Michael Shepley, Walter Fitzgerald, Edgar Norfolk, Martin Miller, Clive Morton, Joss Ambler, Jack Raine, Laurence Hanray, Helen Haye, John Stuart, Ronald Simpson, Gwynne Whitby, Malcolm Dalmayne and Michael Hordern.
This London Films production is shot in black and white by Wilkie Cooper, produced by Anthony Kimmins and Jack Kitchen, scored by Benjamin Frankel and designed by William C Andrews.
The other Balchin favourite is The Small Back Room (1949).
© Derek Winnert 2017 Classic Movie Review 5854
Check out more reviews on http://derekwinnert.com