Metropolitan **** (1990, Carolyn Farina, Edward Clements, Chris Eigeman) – Classic Movie Review 4780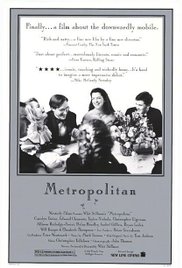 Director Whit Stillman's charming, quirky 1990 drawing-room comedy of preppy manners among New York's late Eighties privileged classes boasts a witty, erudite Oscar nominated Best Original Screenplay by début writer/director Stillman and sharp playing by a cast of young unknowns, mostly making their first film.
Shot on a tiny budget apparently on the proceeds of Stillman 's sale of his Manhattan apartment, it is still one of Stillman's best movies, made with such winning confidence and style.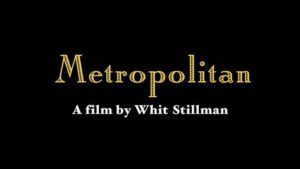 Metropolitan is a special film oozing with quality conversation, diverting situations, provoking ideas and involving characters.
The main cast are Carolyn Farina, Edward Clements (who plays Tom Townsend), Christopher Eigeman, Taylor Nichols, Allison Rutledge-Parisi, Dylan Hundley, Isabel Gillies, Bryan Leder, Will Kempe, and Ellia Thompson.
It was an indie success, costing $225,000 and grossing $3 million in the US.
Clements was listed as one of the 12 Promising New Actors of 1990 in John Willis' Screen World, Vol. 42. [1990]. But he acted in only one more movie – Star Trek VI: The Undiscovered Country (1991) -, became a born-again Christian and is now a pastor in Toronto.
Farina was cast with no acting experience after the director's wife met her working at the Macy's store perfume section. Only four of the cast went on to have a career as an actor.
Kate Beckinsale won the Best Actress award for her role in Love & Friendship (2016) as Lady Susan at the 2016 Evening Standard British Film Awards. Love & Friendship (2016) is only Stillman's fifth film in 25 years, after Metropolitan (1990), Barcelona (1994), The Last Days of Disco (1998) and Damsels in Distress (2011).
© Derek Winnert 2016 Classic Movie Review 4780
Check out more reviews on http://derekwinnert.com