Memento ***** (Guy Pearce, 2000) – Classic Film Review 79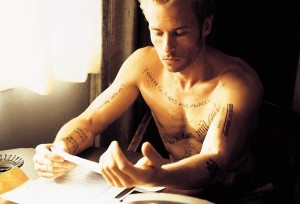 'I always thought the joy of reading a book is not knowing what happens next.' – Leonard Shelby.
Writer-director Christopher Nolan's breathless, ultra-gripping and incredibly smartly handled 2000 mystery thriller is unique and dazzling. It boasts a brilliant premise that begins with the ultimate act of revenge and backtracks through time to reveal the shocking reasons behind it.
A haunted-looking Guy Pearce is absolutely excellent, fired up and at the top of his game as Leonard Shelby, a tormented former insurance investigator who remembers everything up to the night his wife was brutally raped and murdered. But since then he has suffered from short-term memory loss and cannot remember any event, the places he's visited or anyone he's met just minutes before.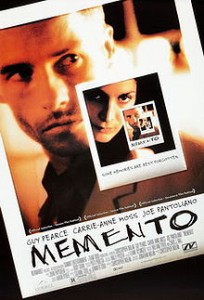 Determined to find out why his wife was killed, the only way he can store evidence is on scraps of paper, by taking Polaroid photos or tattooing vital clues on his body. Through this investigation, he appears to have the help of bartender Natalie (Carrie-Anne Moss), who may have her own secret agenda, and cop Teddy (Joe Pantoliano), whose friendship is always suspect ('do not believe his lies', Leonard's note to himself says).
A bit arty and challenging, but exciting and enthralling, Memento is made with the greatest confidence, style and wit, with eye-catching noir lighting, incisively sharp editing (Oscar-nominated Dody Dorn) and nerve-jangling tension deployed throughout. Waly Pfister's cinematography and David Julyan's score are highly imaginative and impeccably realised pieces of work.
Christopher Nolan's screenplay was based on his brother Jonathan's short story Memento Mori, which was only published after the movie appeared, so it was able to be nominated for a best original screenplay Oscar. The opening scene runs backwards, though the sound effects run normally.
The film is structured with two timelines, one in colour and one in black-and-white. The colour sequences alternate with black-and-white sequences put together in chronological order. The colour ones, though shown forward (except for the very first one, which is shown in reverse) are ordered in reverse. Chronologically, the black-and-white sequences come first, the colour sequences come next.
The Limited Edition or Special Edition DVD allows you to watch the movie in chronological order, though the effort to solve the puzzle of the psychological tests that allows you to do so is hardly worth the result (if admittedly fascinating). Just watch the movie as Nolan intended; that's the best way to puzzle out the mystery.
(C) Derek Winnert 2013 Classic Film Review 79
Link to Derek Winnert's home page for more film reviews: http://derekwinnert.com/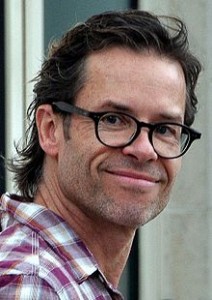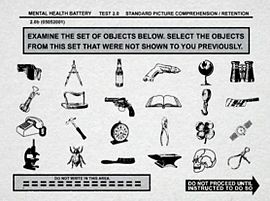 The Special Edition DVD's menus are arranged as psychological tests. Highlighting certain objects will lead to special features.