Madame Sin ** (1972, Bette Davis, Robert Wagner, Denholm Elliott) – Classic Movie Review 6024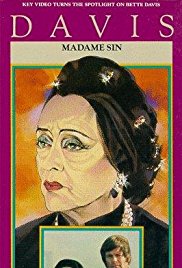 'Even Dr No would say yes to Madame Sin!' Co-writer/ director David Greene's 1972 thriller stars Bette Davis as mad Madame Sin, who wants to steal a Polaris nuclear-powered submarine, so she gets unwitting CIA agent Anthony Lawrence (Robert Wagner) to help her.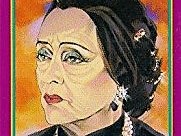 Davis enjoys herself most extravagantly as the evil half-Chinese anti-heroine (OK villainess) in this amusingly kitsch and campy spy thriller, made for TV by Lew Grade's ITC company in Britain, but screened in cinemas in the UK and eslewhere outside the US. Maybe it was intended to be a TV series pilot, but if so, that did not happen.
A large number of Brit camp straight or gay actors of the period is assembled for the daft, harmless fun.
Also in the cast are Denholm Elliott, Gordon Jackson, Dudley Sutton, Catherine Schell, Paul Maxwell, Pik Sen Lim, David Healy, Roy Kinnear, Al Mancini, Charles Lloyd Pack, Arnold Diamond, Frank Middlemass, Burt Kwouk, Paul Young, Jack Weir, Stuart Hoyle, Stuart McGugan, Ian Agnew, Gabrielle Licudi, Vanessa Kempster, John Orchard, John Slavid and Barry Moreland.
It is written by David Greene and Barry Orringer, shot by Anthony B Richmond, produced by Lew Grade, Robert Wagner and Julian Wintle, scored by Michael Gibbs, and designed by Brian Eatwell.
© Derek Winnert 2017 Classic Movie Review 6024
Check out more reviews on http://derekwinnert.com