Mad Max: Fury Road **** (2015, Tom Hardy, Charlize Theron, Nicholas Hoult) – Movie Review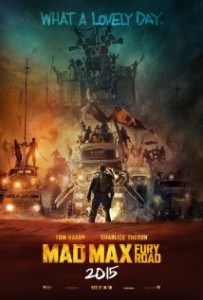 The explosive Fury Road is spectacularly fast and furious, with a quirky set of ideas and some of the screen's most astonishing visuals.
Imperator Furiosa: 'You never gonna have a better chance.' Max Rockatansky: 'At what?' Imperator Furiosa: 'Redemption.'
Legendary film-maker George Miller grabs a rare opportunity to revisit the scene of his Mad Max trilogy triumphs (1979 -85) with this explosive fourth movie. It does what its says on the tin – it's fast and furious, spectacularly fast and furious, with a quirky set of ideas and some of the screen's most astonishing visuals.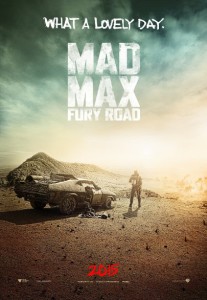 Incredibly visceral, head-bangingly loud, totally in-your-face and with its hell-bent pace unrelenting, Mad Max relies entirely on its stunning visuals, nightmarish dystopian vision, weird characters and its heart-pounding violent action for its hard-to-the-gut impact. The dialogue is spare to the point of non-existence and so is the plot.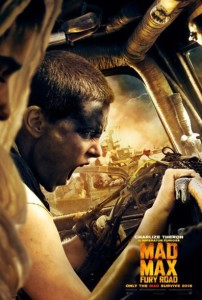 There is however a set-up – a blistering one – which gives Miller the chance to turn the whole darned thing into one long, incredible, breathless road chase, a death race on Fury Road. To be fair, there is a slight pause in the middle, when Max and co decide not to flee but turn round and attack the attackers and get chased to the death again. And off they go…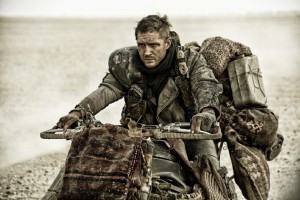 However the lack of lines does give 38-year-old English actor Tom Hardy some obvious difficulties in establishing his authority and character over the anti-hero Mad Max. When he finally reveals to the anti-heroine Furiosa (Charlize Theron) 'I'm Max', he has to say it a couple of times as though he isn't quite sure. Some audience members will want to shout back at the screen 'Oh, no, you're not, Mel Gibson is!'
Nevertheless, Hardy is grim-faced and efficient in the incredible action, acting mostly with the creases in his forehead. Maybe he doesn't quite make the role his own, but he is a formidable physical presence.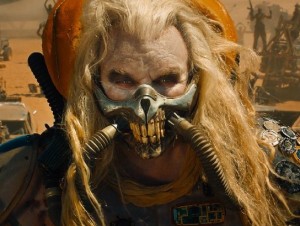 Hugh Keays-Byrne,  who was in the original Mad Max as Toecutter, is outstanding as warlord Immortan Joe, the inbred monster who rules an evil society inside a mountain stronghold. His one-armed lieutenant Furiosa stages a revolt and drives off with his prized concubines, hotly pursued by Joe and co, a barmy army hell suicidally bent more on killing than getting the concubines back.
Furiosa encounters Max, but, after a little rumble, they realise they're on the same side. Max wants to take her along for the ride to find water, but she insists on the concubines coming along too.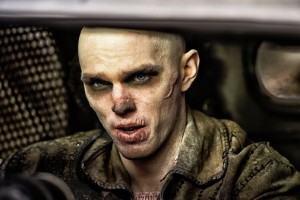 Though way too English, Nicholas Hoult's semi-naked, mascaraed Nux is quite a lot of fun, as is world strongman Nathan Jones as Rictus Erectus, John Howard as The People Eater and Josh Helman as Slit. And I'd not be doing my duty if I didn't also mention Zoë Kravitz, Rosie Huntington-Whiteley, Riley Keough, Abbey Lee and Courtney Eaton as a particularly fine bunch of concubines. Well chosen, Miller!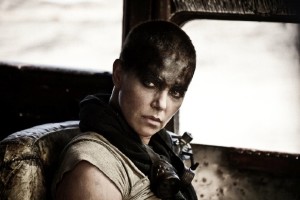 But it's the amazing Theron who is undoubtedly the hit turn of the movie, outshining everyone. (Admittedly she gets more dialogue than Hardy, and it's mostly pretty good stuff). Theron's quite one scary woman! They should have called the movie Furious Furiosa.
The woman next to me at the press screening asked if the movie was likely to be very violent. I said: 'It's mad Max!' She said she'd come because her office crowd said it was an adventure movie. I said she could always shut her eyes or leave if she had to. She left after 20 minutes.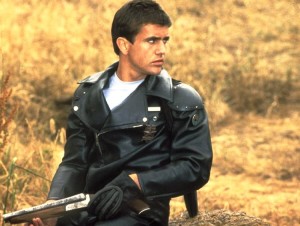 The two women left next to me started screaming with sustained peals of hysterical laughter at the character who hangs off a huge juggernaut with giant speaker stacks blasting deafening rock riffs. Max hits him, grabs his guitar to hit someone else, then the guy grabs his guitar back and carries on playing. This might be the only funny moment in the entire grim, perhaps over-serious movie, but it is hilarious.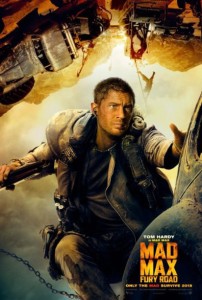 Most of all, I like the idea that Fury Road is a one-person idea and vision brought to the screen on a big-studio mega blockbuster budget of $100,000,000. No committee or Hollywood boardroom could have come up with a movie as rich and strange as this. Well done, Miller! You've stayed true to yourself and the wayward spirit of the Seventies.
It was filmed on Namib Desert, Namibia, with studio work at the Cape Town Film Studios in South Africa and the Fox Studios in Sydney, Australia. It's a visual effects, special effects and stunts bonanza, providing endless work for thousands of people. There's a little too much CGI of course, well far too much to be honest, but it's all brilliantly skilfully done.
Mad Max: Fury Road scored 10 nominations at the 2016 Oscars but The Revenant led the race with 12 nominations. On 28 February 2016, Mad Max was the night's big winner with six Oscars: Best Achievement in Film Editing (Margaret Sixel), Costume Design (Jenny Beavan), Makeup and Hairstyling, Sound Mixing, Sound Editing and Production Design (Colin Gibson for production design, Lisa Thompson for set decoration) .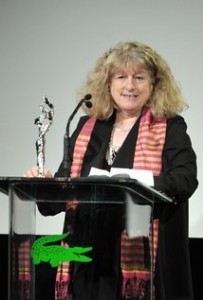 It is London-born Jenny Beavan's second Oscar, after her shared one 30 years earlier for A Room with a View (1985).
http://derekwinnert.com/mad-max-1979-mel-gibson-joanne-samuel-hugh-keays-byrne-steve-bisley-classic-movie-review-2468/
© Derek Winnert 2015 Movie Review
Check out more reviews on http://derekwinnert.com