A Room with a View ***** (1985, Maggie Smith, Helena Bonham Carter, Denholm Elliott, Julian Sands, Simon Callow, Judi Dench, Daniel Day-Lewis, Rupert Graves) – Classic Movie Review 169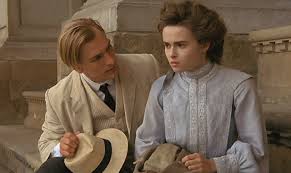 James Ivory's 1985 triple-Oscar-winning classic is a deliciously perceptive, witty and entertaining version of E M Forster's renowned novel. Mirroring Forster's own experience in Italy, it follows the sexual and social awakening of an uptight young Edwardian English girl, Lucy Honeychurch (Helena Bonham Carter) during and after a visit to Florence.
She's chaperoned in the jewel of the Renaissance by her meddling, restrictive, much older, far less wise cousin, Charlotte Bartlett (Maggie Smith). The latter's fussing from the get-go.
Unfortunately, it turns out that they have been allocated rooms without views at their charming, humble little Florence pensione, to Miss Bartlett's great horror. But they soon meet a couple of fellow guests, rather literally falling over themselves to be helpful. Denholm Elliott plays Mr Emerson, the very ordinary and humble English father they encounter at their hotel, and Julian Sands is his dashingly handsome, romantically inclined son, George.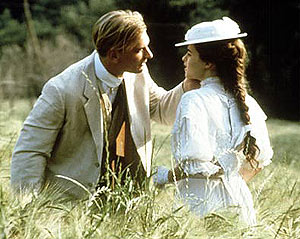 Lucy sets off on a journey of discovery, preferably without her Baedeker guide. That's all very well, but back home in England, Lucy's planning to get married to the incredibly stuffy and uptight rich prig Cecil Vyse (Daniel Day-Lewis). Is Italy going to work its magic and change Lucy, and some of the others maybe. Or is what happens in Italy stays in Italy?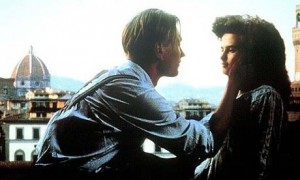 First and foremost it's a marvellous story, retold perfectly here on screen with a beautifully crafted, incisive Oscar-winning screenplay by German writer Ruth Prawer Jhabvala.
Second, there's a delicious banquet of dazzling acting from the admired British thespians relishing the luxury of Jhabvala's script. Smith, Bonham Carter, Elliott, Sands and Day-Lewis are quite brilliant; working at the top of their game. Weirdly, the performances work in broad and subtle strokes at the same time. This is a clever trick to pull off. The Lucy role formed the basis of Bonham Carter's long career and George is the best thing Sands ever did.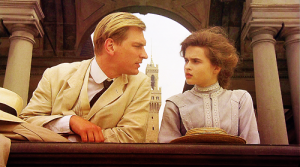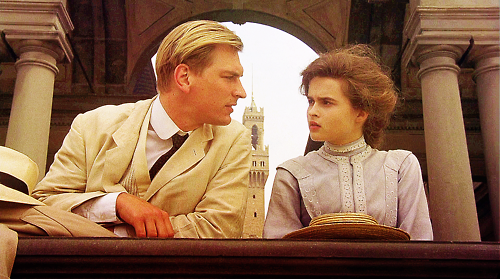 Simon Callow (as the Reverend Mr Beebe), Judi Dench (as the romantic novelist Eleanor Lavish), Rosemary Leach (as Lucy's mother), Rupert Graves (in his film debut, aged 21, as Lucy's brother Freddy), Patrick Godfrey (as the Reverend Mr Eager, Chaplain of the Anglican Church in Florence) and Fabia Drake (as Miss Alan) are all essential to the movie's success.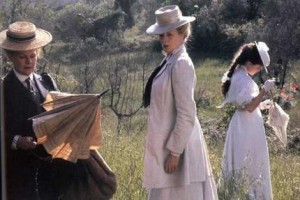 Then sit back and enjoy the Florentine scenery, the notable Best Art Direction-Set Decoration by Gianni Quaranta, Brian Ackland-Snow, Brian Savegar and Elio Altamura and Jenny Beavan and John Bright's costume designs (both which also won Oscars), as well as Tony Pierce-Roberts's luminous, gleaming Tuscan location cinematography.
And the film and all its elements are exquisitely controlled by California-born masterly director Ivory, on his finest form, sympathetically working with ideal material. He went on to film Foster's other novels Maurice (1987) and Howards End (1992).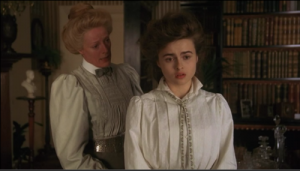 Smith and Elliott were Oscar nominated and so was Ivory.
The English characters are slightly sent up, just a little gently, a bit more than in the novel, but the slightly satirical tone is just right for entertainment value and underlining the truth and meaning behind the story.
It has a PG certificate, with full frontal nude scenes as the men go swimming and run when the women approach.
Remade in 2007 as a TV movie.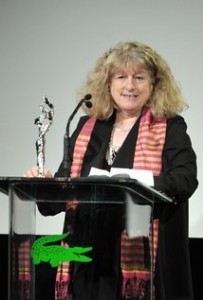 It is London-born Jenny Beavan's first Oscar – she won again in 2016 for Mad Max: Fury Road (2015).
© Derek Winnert 2013 Classic Movie Review 169
Check out more reviews on http://derekwinnert.com