Lawman **** (1971, Burt Lancaster, Robert Ryan, Lee J Cobb, Sheree North Joseph Wiseman, Robert Duvall) – Classic Movie Review 5059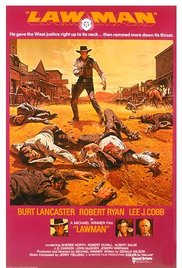 Producer-director Michael Winner's 1971 Western stars Burt Lancaster as Jared Maddox, the lawman from Bannock who rides into the town of Sabbath to round up all the cattlemen who accidentally killed an elderly dude with a stray shot in a wild celebration the year before.
Lee J Cobb co-stars as Sabbath's town boss, benevolent despot land baron Vince Bronson, who learns of the old man's death and offers restitution, which Maddox refuses. He won't stop till he takes all the men involved in for a trial on a charge of murder.
Winner's flashily directed, powerful and in many ways distinguished Western has several of America's finest film actors and peps up the familiar scenario with good, well-developed characters and loads of the then fashionable Seventies-style blood and violent rough stuff.
Robert Ryan is excellent as Sabbath's once-tough but aging marshal Cotton Ryan and so is Sheree North as Laura Shelby, the town tart with a heart. There are also notable appearances by John McGiver as the Sabbath Mayor Sam Bolden, Albert Salmi as nasty cowboy Harvey Stenbaugh, Robert Duvall as small rancher Vern Adams, Joseph Wiseman as the brothel keeper, as well as Richard Jordan, J D Cannon, Ralph Waite, John Beck, John Hillerman, Lou Frizzell, William C Watson, Walter Brooke, Robert Emhardt and Charles Tyner. It could hardly have a better cast.
The film, made in summer 1970, is strikingly shot on location at Durango, Mexico, and London-born director of photography Robert Paynter captures the bleak scenery of the arid Southwest. Jerry Fielding's score points up the dark, bleak atmosphere of the film.
With the screenplay by Gerald Wilson, the plot is similar to Man with the Gun (1955), with Robert Mitchum. Still, despite the familiarity of the story and the film's other shortcomings (especially the dated zoom shots), it is very expert and very watchable, and one of Winner's best movies.
United Artists distributed it in a double bill with The Organization (1971).
© Derek Winnert 2017 Classic Movie Review 5059
Check out more reviews on http://derekwinnert.com