Laissez bronzer les cadavres [Let the Corpses Tan] * (2017, Elina Löwensohn, Marc Barbé, Bernie Bonvoisin, Dorylia Calmel) – Movie Review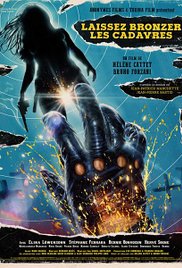 I don't suppose you would expect subtlety, laughs or a nice, gentle time from a movie called Let the Corpses Tan. Well, you are certainly not going to get any of that kind of stuff. These film-makers have something a bit grizzlier on their minds.
Writer-directors Hélène Cattet and Bruno Forzani pick over a 1971 novel by Jean-Pierre Bastid and Jean-Patrick Manchette and come up with a campy, kitschy thriller celebrating big guns and violent death. It can boast empty style but is head-bangingly, stomach-churningly disreputable. The characters are mostly middle aged, interchangeable and uninteresting. The movie is totally decadent and uninvolving. It is, perhaps quite deliberately, alienating.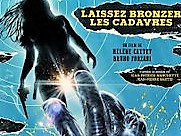 It is intentionally all Sixties style and no substance, not treating its flimsy story seriously, so it can't count as any kind of thriller. It is like Modesty Blaise on acid. It is a take no prisoners kind of movie. The visuals are arresting, but the taste police should arrest Cattet and Forzani for all their line-crossing offences here. However, to be fair, they show a lot of confidence and flair.
Elina Löwensohn stars as an artist who has taken over an abandoned and delapidated building in a remote area of the Mediterranean seaside in summer, where villain Rhino and his gang turn up with the 250 kg of gold they have stolen. Surprise guests and two cops also turn up, leading to a bloodbath as the gang try to escape with the gold.
It is good to see Löwensohn again, and Manuel Dacosse can be commended for his flashy cinematography, and so can Jean-Christophe Bourgeois for his clever Special Effects. It sure is slick enough. The catchy score plays like a Ennio Morricone pastiche that leads you to hum theme from The Good, the Bad and the Ugly on the way home.
Pastiche is all very well, but some of us like new stuff and real thrillers, and object to turning killing and wounding into art pornography.
© Derek Winnert 2017 Movie Review 
Check out more reviews on http://derekwinnert.com