La La Land **** (2016, Ryan Gosling, Emma Stone, Amiée Conn, J K Simmons, Rosemarie DeWitt) – Movie Review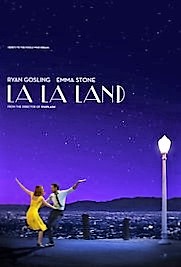 Writer-director Damien Chazelle's 2016 comedy drama musical is a good and clever film, graced with two award-worthy performances from Ryan Gosling as struggling jazz pianist Seb and Emma Stone as Mia, the aspiring actress he falls for in Los Angeles. Both actors are very good and very clever, making it work. It's perhaps a slight a shame that they can't really sing, but, hey, they can act and dance up a storm, and Gosling looks as though he can play his keyboards.
Damien Chazelle films exuberantly and often triumphantly, relishing the retro art of fairy tale musical cinema, and bringing much of the brilliant flair and style he brought to Whiplash (2014), though, truth be told, that remains a better movie. That film's Oscar-winning co-star J K Simmons re-appears here in a cameo as Gosling's grouchy bar owner boss, but it's as snappy as it is short. Pleasing the fans, some of the jazz-style music of Whiplash reappears here too among the old-style musical numbers.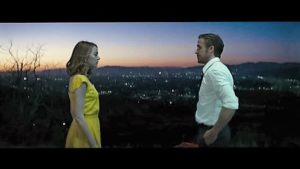 This is a stunningly great looking movie, capturing the flavour of La La Land, as if seen through rose coloured glasses or through a Technicolor lens. Fairy tales can come true, and this one makes its tale seem true, which is odd in a film that has its characters singing and dancing on the freeway and flying through the air at the Los Angeles Griffith Observatory – though personally I could have lived without that. It's a step too far.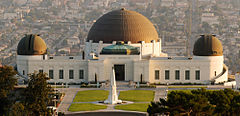 I think it is Gosling and Stone that make it seem 'true' and 'real'. They really are very good. Their big bust-up is a bristling, heart-breaking sequence. They are edgy performers who bring grit to a chocolate box movie.
It was the one film you couldn't get in to at the London Film Festival (or at least I couldn't) and the multimedia screening at the Odeon Leicester Square received the rarest accolade of several rounds of applause, the first after the opening number even before the title appears on screen.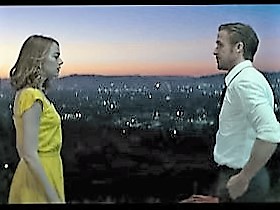 You would kind of have to like musicals and old movies and Hollywood to enjoy this, and I can't see many boys going for it. But it's the kind of movie that those who do like it will not just love it but adore it and probably have it as their film of the year. You wish it well at the box office and huge success at awards season.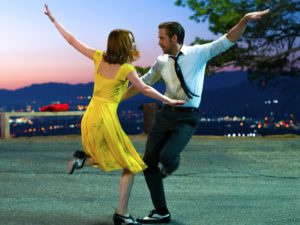 On 8 January 2017 it set the Golden Globes' all-time record with its seventh win for Best Motion Picture – Musical or Comedy. It also claimed Best Actor and Actress in a Motion Picture – Musical or Comedy (Ryan Gosling, Emma Stone), Best Director (Damien Chazelle), Best Screenplay (Chazelle), Best Original Score (Justin Hurwitz) and Best Original Song (Hurwitz et al for 'City of Stars').
The London Film Critics' Circle voted it Film of the Year.
It was nominated for 14 Oscars, including Best Film, Actor, Actress and Director, to tie with the record set by Titanic and All About Eve. It won six 2017 Academy Awards, with Stone as Best Actress, Chazelle for Best Directing, Linus Sandgren for Best Cinematography, Justin Hurwitz for Best Original Score, Justin Hurwitz (music), Benj Pasek (lyrics) and Justin Paul (lyrics) for Best Original Song ('City of Stars'), David Wasco (production design) and Sandy Reynolds-Wasco (set decoration) for Best Production Design.
It cost $30 million and at the box office, it has earned $91 million in the US for a total of $182.4 million worldwide by 27 January 2017.
© Derek Winnert 2016 Movie Review
Check out more reviews on http://derekwinnert.com