Kiss Me Kate ***** (1953, Kathryn Grayson, Howard Keel, Ann Miller, Keenan Wynn, James Whitmore, Tommy Rall, Bob Fosse, Bobby Van) – Classic Movie Review 1117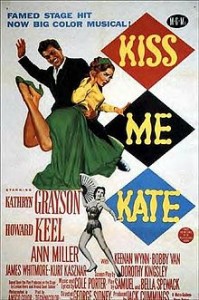 Director George Sidney's beguiling 1953 movie of the delightful Cole Porter Broadway smash-hit show has style, wit and charm in abundance, plus the perfect cast to show off the songs. One of the great MGM musicals, it is one of the best examples of a Hollywood film in polarised 3D, using the most advanced techniques of the time.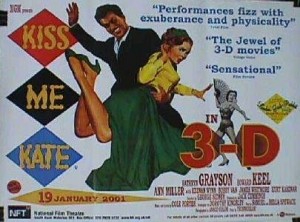 At the peak of their powers, Kathryn Grayson and Howard Keel are on top, appealing form as performers and in brilliant vocal form, as you can confirm by just listening to the soundtrack album. Their performances in the film overflow with infectiously vivacious zest as musical theatre players Fred Graham and Lilli Vanessi, who were once married and are now unfortunately cast starring opposite each other as Petruchio and Katherine in a Broadway-bound stage musical version of Shakespeare's play The Taming of the Shrew.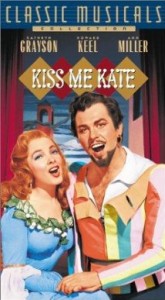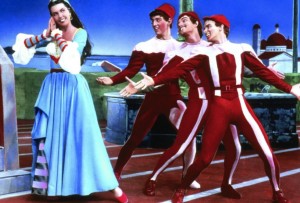 It's all very clever and post-modern of Cole Porter to devise a musical version of The Taming of the Shrew and have the characters playing in the same play. And in the film Ron Randell plays Cole Porter. On the page, it might even be too clever-clever as an idea but it comes off triumphantly. Shakespeare, without whom it wouldn't have been possible, wasn't credited by the way.
Franco Zeffirelli's 1967 Burton-Taylor film of the play The Taming of the Shrew at least has the good grace to mention old Will. After the names of the screenwriters are listed, the credits read: 'With acknowledgements to William Shakespeare without whom they would have been at a loss for words'.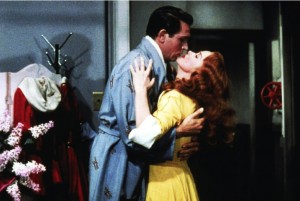 Already squabbling backstage, Fred and Lilli begin an all-out emotional war and then a fight during the performance on the opening night that threaten the production. Then there are also threats from a pair of gangsters, Lippy and Slug (Keenan Wynn, James Whitmore), who have come to collect a gambling debt from Bill Calhoun (played by Tommy Rall), the show's Lucentio. But they mistakenly think that it's Fred who owes their boss the money and insist on staying next to him all night.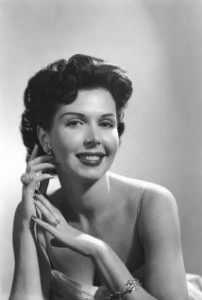 Ann Miller entrances as Lois Lane 'Bianca' in her finest moment in the movies. It was understandably her favourite of her films. Happily, it is she who gets to sing the sizzling Too Darn Hot number in the opening scene, though in the stage show it was sung by Paul, Fred's African-American dresser and a group of chorus actors relaxing backstage between the acts of the musical.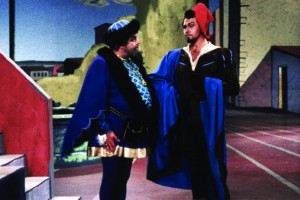 Legendary dancer and choreographer Bob Fosse dances up a storm as the show's Hortensio, Bobby Van athletically plays Gremio, and Wynn and Whitmore are delightfully droll as Slug and Lippy, with their 'Brush Up Your Shakespeare' routine a funny highlight.
Those great songs keep coming at you: 'Too Darn Hot' (Lois), 'From this Moment On' (Lois, Bill, Hortensio, Gremio), 'Brush Up Your Shakespeare' (Slug and Lippy), 'So In Love' (Lilli and Fred), 'Always True to You in My Fashion' (Lois and Bill) and Tom, Dick or Harry (Lois, Gremio, Bill, Hortensio). And if you're lucky, they come at you in the astonishing 3D it was filmed in.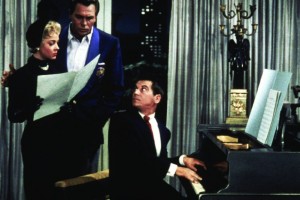 Dorothy Kingsley's screenplay was adapted from the musical's book by Samuel and Bella Spewack. The musical direction is by Oscar-nominated Saul Chaplin and André Previn, and Hermes Pan choreographs the exciting and inventive dance routines and appears as Sailor.
Also in the cast are Kurt Kasznar, Ron Randell, Carol Haney, Willard Parker, Claud Allister, Ann Codee, Jeanne Coyne, Ted Eckelberry, Mitchell Lewis and William Tannen.
Released on November 26 1953, it was pipped at the post as the first 3D musical by Those Redheads from Seattle, released by Paramount on October 16. MGM got their sums wrong. Though it was a hit, because of its high production costs it took a loss of $500,000.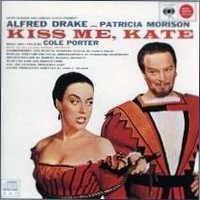 The original Broadway production opened on December 30 1948 at the New Century Theatre, where it ran for 19 months before transferring to the Shubert Theatre, for a total run of 1,077 performances. The original cast included Alfred Drake and Patricia Morison.
The other most famous Fifties 3D films are Hitchcock's Dial M for Murder (1954) and House of Wax (1953).
© Derek Winnert 2014 Classic Film Review 1117 derekwinnert.com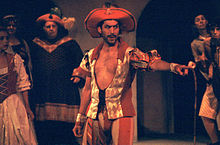 Kevin Black stars as Petruchio in his wedding outfit, in a Carmel Shakespeare Festival production at the outdoor Forest Theatre in Carmel, California, October 2003.