King of Peking ** (2017, Jun Zhao, Wang Naixun, Qing Han) – Movie Review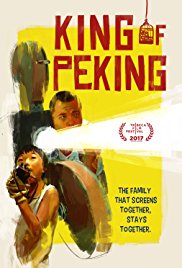 Australian writer-director Sam Voutas's comedy drama is filmed in the Mandarin language and set in Nineties Beijing, where former projectionist Big Wong (Jun Zhao), now forced to work as a cinema janitor, ropes his feisty little young son Little Wong (Wang Naixun) into starting their own pirate movie company. The duo start a tricky bickering but loving relationship, complicated by the boy's aggressive mother seeking custody of the kid.
The central idea, characters and situations are not exactly fresh seeming but they are strong enough, and promising enough. But, though nice enough, the film disappoints a little.
Though not as funny and charming as it hopes, it is still mildly pleasant and amusing. Probably, it would like to be Cinema Paradiso, but unfortunately that does not happen here. The problem is that it is simply a bit underpowered and lacks the ability to be extraordinary, to elevate itself from the rut.
Nevertheless, there are some sweet scenes and ideas along the way, and Jun Zhao and Wang Naixun are good, though, in quite appealing performances.
© Derek Winnert 2017 Movie Review
Check out more reviews on http://derekwinnert.com