Justice League ** (2017, Ben Affleck, Henry Cavill, Gal Gadot, Jason Momoa, Ezra Miller) – Movie Review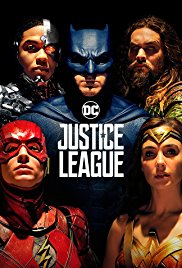 Justice League (2017) is more of the same but weaker and lamer as everything is rehashed in Zack Snyder's sequel to Batman v Superman: Dawn of Justice (2016).
It has the same virtues and the same flaws, as a very grown-up and adult movie made with relentless, slick confidence and relentless, slick CGI, but also another new downside. We have been there and done that already. It feels very much deju vu, been there, done that, seen that, so what's new? And if there is anything new to show or tell, we're not seeing it here. It is all feeling to be getting past its sell-by date.
[Spoiler alert] Justice League has nothing fresh to say, no new plot and just a few new characters, mostly pre-introduced but now expanded, and a new super-villain (Steppenwolf) who for some reason needs the combined forced of Batman (Ben Affleck)'s entire Justice League to see him off, and even that's only with the help of a resurrected Superman (Henry Cavill). Actually, Steppenwolf (voice of Ciarán Hinds) is a really weak villain, quite dull and generic, and hard to take to. It almost makes you wish they had brought Lex Luthor back – well, almost. Jesse Eisenberg was hoping to return, and maybe he will some day, but not here.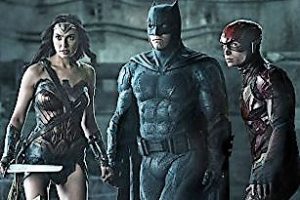 Affleck continues his grim, near comatose performance as Batman. If he is thinking of retiring and handing over the running of the Justice League to Diana (Gal Gadot), this might be the time and that would be great. Gadot is good, but, on the other hand, she was more effective in her own movie, Wonder Woman, and this seems like a pale copy of her performance there. Cavill's Superman is a pretty flat and sombre performance too, with as little light and shade as Affleck's.
Jason Momoa's Aquaman is a very strong presence, making the upcoming Aquaman movie seem a promising prospect. His underwater bits look interesting. Ray Fisher's Cyborg is good, and Ezra Miller has all the amusing lines as The Flash. This time it's Miller who relishes his role like he's in a dress rehearsal for an Oscar Wilde play, upstaging Jeremy Irons's arch Alfred in the campy department. Miller has certainly gayed up The Flash. I suppose he is quite amusing, but probably not as much as he hopes. Is The Flash meant to be gay? Well I'm sure I don't know. Do Warner Bros?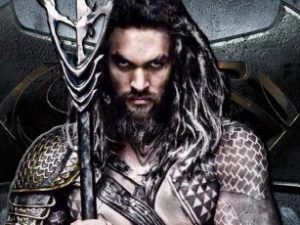 Snyder keeps everything dark and weird, as before, with its CGI onslaught proving to be the best parts of the movie. Then it is exactly like an animated comic book, and quite satisfying. It is visually exciting, once or twice even thrilling. So why then have live action and actors?
It I damn with faint praise, that's the best of it. Though happily Justice League isn't silly, it nevertheless also isn't a lot of fun. It is fairly painless. The two hours move by swiftly. But it is all just there going on there up on screen miles away from where you are. It is that uninvolving.
Perhaps crucially, the film's score and running time were changed after Snyder left in May when his daughter died. Writer Joss Whedon stepped in to finish the film, and composer Tom Holkenborg was replaced with Danny Elfman. A campaign has started to get Snyder's original cut restored on the DVD.
© Derek Winnert 2017 Movie Review
Check out more reviews on http://derekwinnert.com