Jet Storm ***½ (1959, Richard Attenborough, Stanley Baker, Mai Zetterling, Diane Cilento, Hermione Baddeley, Harry Secombe, Virginia Maskell) – Classic Movie Review 5934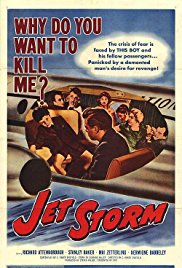 This tense 1959 British thriller, tautly directed by Cy Endfield [C Raker Endfield], the maker of Zulu, is a more than decent early example of the airplane disaster picture, in which a man's mad passion for vengeance threatens the lives of everyone on a transatlantic flight to New York.
Richard Attenborough breaks the mould of his war coward typecasting as the bitter bad guy, Ernest Tilley, the father who lost his daughter in a hit-and-run accident and now wants to blow all the passengers and crew sky high after boarding the same plane as the man who caused the fatal accident.
The Airport-style movie takes off in flight with a good script by Endfield and Sigmund Miller that includes very acceptable dialogue, reasonable characteristaion, and sparky sub-plots.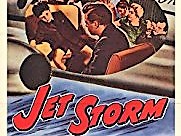 And it is helped enormously by an engaging cast that reads like a British Actors' Equity list of the day and includes luminaries Stanley Baker (as the captain), Diane Cilento, Mai Zetterling, Sybil Thorndike, Harry Secombe, Virginia Maskell, Hermione Baddeley, David Kossoff, Elizabeth Sellars, Marty Wilde, Patrick Allen, Paul Carpenter, Megs Jenkins and real-life couple Barbara Kelly and Bernard Braden, playing Edwina and Otis Randolph.
Also in the cast are Jackie Lane, Cec Linder, Neil McCallum, Lana Morris, George Rose, Peter Bayliss, John Crewdson, Paul Eddington, Glyn Houston, Peter Illing, Jeremy Judge, George Murcell, Alun Owen and Irene Prador.
Released by British Lion, it is shot in black and white by Jack Hildyard, produced by Steven Pallos, scored by Thomas Rajna and designed by Scott MacGregor.
The aircraft in film is a Soviet passenger jet Tupolev Tu-104, though the passengers are flying on a British airline from London to New York.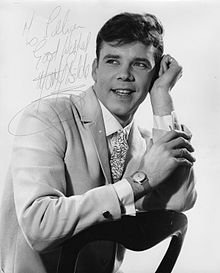 Marty Wilde sings the Jet Storm Theme Music, with music by him and lyrics by Endfield. Wilde also appeared in The Hellions (1961), What a Crazy World (1963) and Stardust (1974). His name was changed from Reginald Smith by impresario Larry Parnes. 'Marty' came from the 1955 film Marty. Parnes said: 'Marty – that's a friendly name – and Wilde – that's the spirit. The name must fit the personality. Very important.'
© Derek Winnert 2017 Classic Movie Review 5934
Check out more reviews on http://derekwinnert.com