It Happened One Night ***** (1934, Clark Gable, Claudette Colbert) – Classic Film Review 86

Director Frank Capra's deliciously playful romantic comedy took all the big prizes at the 1935 Academy Awards. It made history as the only film to scoop all five main Oscars (best picture, actor, actress, screenplay, director) until One Flew Over the Cuckoo's Nest in 1975 and then The Silence of the Lambs in 1991. Claudette Colbert didn't even bother to attend the ceremony, as she was sure she'd lose to Bette Davis in Of Human Bondage. How wrong was she!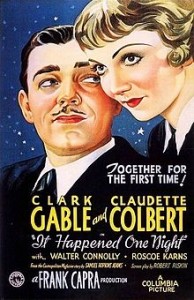 Still fresh, delightful and fun, It Happened One Night has worn extremely well for a movie of its venerable age, thanks mainly to Claudette Colbert and Clark Gable's infectiously captivating, graceful performances as just married Ellie Andrews, the socialite running away from her wedding, and Peter Warne, the 'resting' newsman she meets on the road.
Gable forces Colbert to stay with him so he can get her back to her new aviator husband or he'll tell her dad where she is. In any case, he's going to end up with a good story. Well, actually, it's we who end up with a good story.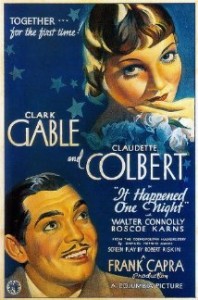 The witty, good-natured road-movie story is a model of its kind, a blueprint for films down the ages. But it's best remembered for two classic scenes: the one where Colbert hitches a lift with a brazen show of her stocking and later when a smirking Gable gallantly hangs up a blanket when they share a room. Such things were considered the height of daring, even naughtiness in its day. It's astounding, but they actually still produce a little erotic charge after all these decades.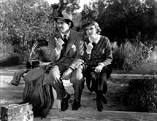 Based on the short story Night Bus by Stanley Hopkins Adams, it is written with a delicious wry cynicism by Robert Riskin. Never once flagging during its 105 minutes, the movie is perfectly paced by director Capra, whose sophisticated, fast-moving, crackerjack handling betrays no hint of the populist 'Capracorn' sentimentality that softened and marred his later classics. This all-time great is maybe Capra's finest film and his most fondly remembered.
Remade as You Can't Run Away from It in 1956 with June Allyson and Jack Lemmon.
http://derekwinnert.com/mr-smith-goes-to-washington-1939-james-stewart-jean-arthur-classic-film-review-1224/
http://derekwinnert.com/mr-deeds-goes-to-town-1936-gary-cooper-jean-arthur-classic-film-review-1225/
(C) Derek Winnert 2013 Classic Film Review 86
Link to Derek Winnert's home page for more film reviews: http://derekwinnert.com/