It **** (2017, Jaeden Lieberher, Jeremy Ray Taylor, Sophia Lillis, Finn Wolfhard, Wyatt Oleff, Jack Dylan Grazer, Chosen Jacobs, Bill Skarsgård) – Movie Review
New Line's cinema movie of Stephen King's horror film It (2017) was in development for seven years before filming began and has had a tricky production history. Happily, none of this shows in a polished, stylish production. It is a very well made, beautifully crafted, exceedingly posh movie. It is very evident that a whole lot of skill has gone into making a rather creaky thing work so darned well.
It is now directed by Argentine film-maker Andy [Andrés] Muschietti, maker of 2013's Mama, after he replaced Cary Fukunaga, who dropped out in July 2015 over production budget issues, connected with how much it would cost, and a difference in artistic vision, connected with how strong the material should be and what rating it would have – i.e. the studio didn't want the NC-17 rating Fukunaga's edgier script required. It now has an R rating and a UK 15.
It still has a very strong, edgy tone. It remains a true horror film, with a dodgy use of child abuse, abduction and murder as its main themes. It has a nice Stephen King vibe. Muschietti has done a grand job, and delivers it with loving care.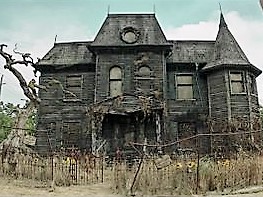 Muschietti keeps most of the original screenplay he inherited from Fukunaga and Chase Palmer, but edits out some of its more controversial scenes and adds some famous sequences and details from the book to make it more faithful to the novel. Muschietti did most of the rewrite, with some credited work by Gary Dauberman to pare down the budget to its $35,000,000.
Muschietti planned filming the book's Smokehole scene in which Richie Tozier (Wolfhard) and Mike Hanlon (Jacobs) use a Native American tradition for a vision to show how It arrived on Earth millions of years ago. The studio nixed it because of the costly CGI involved, which is a great pity, as currently we have no explanation for the It monster.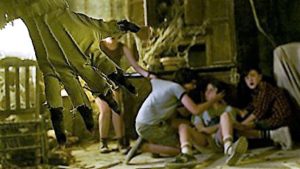 Muschietti completely recast the movie, apart from sole survivor Finn Wolfhard as Richie Tozier. Whew Wolfhard! Were you lucky, or wht?
King's story follows a group of seven troubled outcast 13-year-old losers who are united by various horrifying encounters over a summer school break to take on the monster terrorising their town that they call It. Jaeden Lieberher, Jeremy Ray Taylor, Sophia Lillis, Finn Wolfhard, Wyatt Oleff, Jack Dylan Grazer, and Chosen Jacobs star as the kids who find they have to confront their own demons in the process.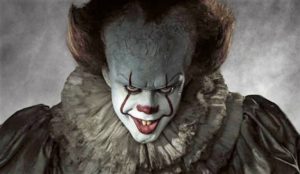 These young actors all give good, haunting performances that build as the epic-length movie (two hours and a quarter) proceeds. Long though it is, it has no dull patches or lulls. You could say that all the kids are stereotype characters, the stutterer, the Jewish boy, the African American, the tubby kid etc. Or you could say that they are archetypes. Anyway, the young actors invest them with personality and individuality.
Admittedly, it just your basic boogeyman going boo and them boo and then boo again. But it never gets old. The scares are well paced and well timed, and continuous. That's a neat and difficult trick to pull off. Pennywise should be a conjurer rather than a clown!
The script manages a little bit of humour to leaven the darkness it plunges us in, but not too much. It is just about right, and the tone too is just about right, and so is the retro atmosphere, seen through a glass darkly. The dialogue isn't always clear, so it is easy to miss some of it, but it hardly matters.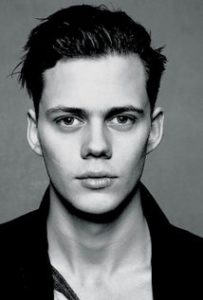 Bill Skarsgård plays It, the shape-shifting villain who appears mostly in the form of an evil clown Pennywise. It is to Skarsgård's credit that his Pennywise is its own thing, making it very different from Tim Curry's performance as Pennywise in the TV version of IT, saying he could not 'do Tim Curry anywhere near as well as Curry himself did'. Wise words, Pennywise! Only trouble is that it could be a CGI monster. Even when Pennywise's eyes look in two different directions, that's actually Skarsgård, saving CGI costs. Skarsgård trained with a contortionist for his role, saving more CGI costs. But he could just as easily be an animated character.
It intriguing that they've gone for another non-American actor with a 'foreign' voice for It. What is that about? Visually, Skarsgård is good but vocally he can't erase memories of Tim Curry. A more famous, more instantly recognisable 'voice' might have been a better choice.
Skarsgård describes Pennywise as 'such an extreme character. Inhumane. It's beyond even a sociopath, because he's not even human. He's not even a clown. I'm playing just one of the beings that It creates. It truly enjoys taking the shape of the clown Pennywise, and enjoys the game and the hunt.' Creepy or what? 'There's a childishness to the character, because he's so closely linked to the kids. The clown is a manifestation of the children's imaginations, so there's something child-like about that.'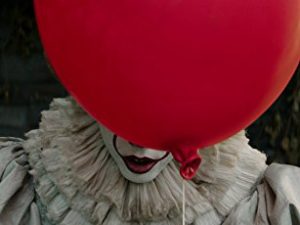 We are in the New England town of Derry in the June, July and August of 1989, when Batman, Lethal Weapon 2 and A Nightmare on Elm Street 5: The Dream Child are showing at the local movie theatre. That's good, well not very good (apart from Batman), but bad is that the local kids are disappearing one by one, leaving bloody remains behind. That is very bad.
One bright, fat kid called Ben Hanscom (Jeremy Ray Taylor) has no friends so he spends time in the library researching and finds Derry has tragic losses of life every 27 years. So the It monster does a bit of serial killing for a while, then clears off only to reappear for the next generation. If the kids can survive the summer, they are in the clear till they're 40 and the monster will be back to prey on their kids.
Clues somehow lead to a place called The Barrens, where the kids unite in their determination to kill It. Then, they are really in trouble.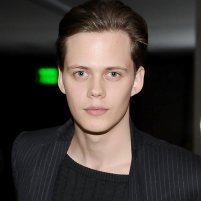 The losers club members have other problems – their own creepy parents and a bunch of particularly nasty and insistent school bullies – played by Nicholas Hamilton (Henry Bowers), Logan Thompson (Victor Criss) Jake Sim (Belch Huggins) and Owen Teague (Patrick Hockstetter). This unpleasant bullying and abuse theme sets the tone for the It monster and King's story.
Jaeden Lieberher (born 4 January 2003) stars as Bill Denbrough, whose little brother Georgie (Jackson Robert Scott) is the film's first victim of It in a compellingly eerie opening sequence set in October 1988 where the kid loses his paper boat in a street gully and it falls into the sewer, where up pops Pennywise to trick or treat him. Creepy or what? Later, in 1989, Bill spends the rest of the film desperately seeking Georgie, to the fury of his dad, who needs the two of them to move on.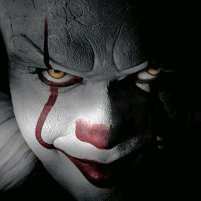 Bill and Ben both attract the kind attentions of the one girl in the group, Beverly Marsh (Sophia Lillis), who seems very together but is actually totally messed up by her father's abusive attentions ('are you still my little girl?').
The music and photography make an enormously important contribution to the film's success and powerful hold. It is just bursting with talent. The inspired behind-the-scenes creative team includes director of photography Chung-Hoon Chung (Me and Earl and the Dying Girl, Oldboy), production designer Claude Paré (Rise of the Planet of the Apes), editor Jason Ballantine (Mad Max: Fury Road), and costume designer Janie Bryant (TV's Mad Men). The music is composed by Benjamin Wallfisch (Annabelle: Creation).
Seth Grahame-Smith and David Katzenberg produce through KatzSmith, along with Dan Lin and Roy Lee. They have to be congratulated too.
When I saw it, the cinema cheered at the start and burst into a little round of applause at the end. That's rare, and that's very nice. The only slight drawback is that you could feel a bit irritated at the end when the film's opening title of It turned into It: Chapter One. It's a bit of a cheat. The film doesn't really stand on its own without the Chapter Two, with the adults replacing the kids.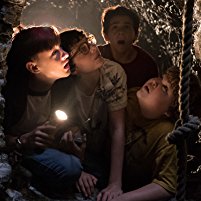 King's massive 1,136 page 1986 novel was first adapted as the TV miniseries It in 1990 starring Tim Curry as Pennywise, the late John Ritter and Jonathan Brandis, Marlon Taylor, Jarrod Blanchard and Brandon Crane.
Some filming took place in Port Hope, Ontario, Canada, standing in for the town of Derry.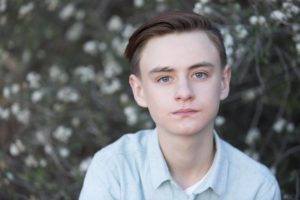 Jaeden Lieberher (born 4 January 2003) also stars in St Vincent as Oliver Bronstein, Playing It Cool, Aloha, Midnight Special as Alton Meyer, The Confirmation as Anthony and The Book of Henry as Henry.
 © Derek Winnert 2017 Movie Review
Check out more reviews on http://derekwinnert.com