Interiors ***** (1978, Diane Keaton, E G Marshall, Geraldine Page, Maureen Stapleton, Kristin Griffith, Mary Beth Hurt, Richard Jordan, Sam Waterston) – Classic Movie Review 6680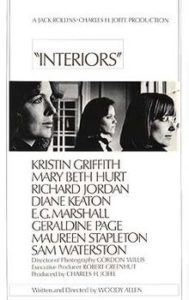 Devotees of the early Woody Allen gag-driven comedies – the 'early funny ones' – may be shocked by his chilly 1978 Chekhovian angst-filled family saga about three adult sisters  – poet Renata (Diane Keaton), vain TV actress Flyn (Kristin Griffith), aimless Joey (Mary Beth Hurt) – and their 60-something parents – corporate attorney Arthur (E G Marshall) and interior decorator Eve (Geraldine Page) – who take them aback with a sudden separation and divorce.
Depressed, unstable Eve attempts suicide, while Arthur returns from Greece with high-spirited Pearl (Maureen Stapleton), whom he intends to marry.
Renata is married to struggling writer Frederick (Richard Jordan), and Joey is in a relationship with Mike (Sam Waterston).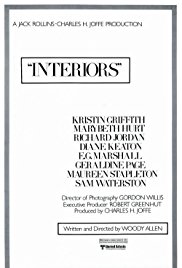 Chilly it may be, but Allen's first dramatic feature film is beautifully written by Allen, splendidly directed by him and stylishly shot by Gordon Willis, and resoundingly performed (particularly by Marshall, Page and Stapleton), and is a foretaste of further polished and penetrating art movie things to come.
As a milestone in his career, it is Woody's first movie as non-acting writer-director, immediately following his Oscar-winning breakthrough with Annie Hall (1977).
It was nominated for five Oscars – Best Actress (Page), Best Supporting Actress (Stapleton), Best Director, Best Original Screenplay and Best Art Direction-Set Decoration. Page received a BAFTA Film Award for Best Supporting Actress.
It also features Henderson Forsythe, Roger Morden, Penny Gaston, Nancy Collins, Kerry Duffy and Missy Hope.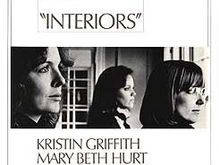 Interiors is produced by Robert Greenhut, Jack Rollins and Charles H Joffe and designed by Mel Bourne (Art Direction) and Daniel Robert (Set Decoration). Surprisingly, especially for an Allen film, there is no music, though Keepin' Out of Mischief Now (written by Fats Waller and Andy Razaf) and Wolverine Blues (written by 'Jelly Roll' Morton) is credited on the soundtrack.
If it seems to run like a filmed Chekhov play, Allen was perhaps looking to the style of Eugene O'Neill in his dysfunctional family material. 'I think I'm writing Long Day's Journey into Night,' he said. However, of course there is also a touch of the Ingmar Bergmans in the film-making style.
Anton Chekhov wrote his classic Three Sisters play in 1900 and it was first performed in 1901 at the Moscow Art Theatre.
Interiors cost $10 million and grossed $10.43 million in the US, not bad for such a serious movie.
© Derek Winnert 2018 Classic Movie Review 6680
Check out more reviews on http://derekwinnert.com