I'll Never Forget What's 'Isname *** (1967, Oliver Reed, Orson Welles, Carol White) – Classic Movie Review 5898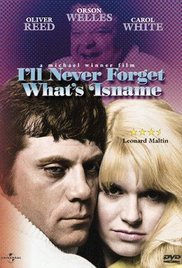 Producer-director Michael Winner's typically unsubtle 1967 Swinging Sixties tragi- comedy stars Oliver Reed as Andrew Quint, a conscience-stricken adman who smashes up his desk and quits the business for an honest life in literature, but is won back to the media fray by manipulative tycoon Jonathan Lute (Orson Welles).
Despite a tendency to circumvent subtlety and go for over-ebullience, reflecting the personalities of its stars and the director, as well as box-office considerations, Winner's movie is funny, touching and well performed, in some cases excitingly performed.

Winner tends to have a sledgehammer touch as director, spoiling any serious intentions Peter Draper's screenplay may have had or points it wanted to make about ambition, the rat race, the literary world and the ad industry. But somehow it all still works quite well, thanks mostly to the exuberance of the iconic cast, and to Winner's perseverance too.
A hit and it is now a fascinating 1967 slice of life. Even if the title doesn't mean anything, like the film it is good fun.
Also in the cast are Carol White, Harry Andrews, Michael Hordern, Wendy Craig, Marianne Faithfull, Norman Rodway, Frank Finlay, Ann Lynn, Harvey Hall, Lyn Ashley, Edward Fox, Basil Dignam, Mark Burns, Mark Eden, Stuart Cooper, Veronica Clifford, Roland Curram, Peter Graves, Robert Mill, Bessie Love, Terence Sewards, Josephine Rueg, Katherine Kessey, Karen Kessey, Hugo Keith-Johnston and Mona Chong.
Welles, the same man who made Citizen Kane, said Draper's screenplay was the best he had read since The Third Man, which he appeared in back in 1949.
Shocking some Sixties sensibilities, Marianne Faithfull as Josie says: 'Get out of here, you f***ing bastard! The BBFC demanded the removal of this single use of the word for the cinema release. Winner reached a compromise by partly obscuring the word with the sound of a car horn. It is often cited as the first time the word was heard in the cinema, though Ulysses was released the same year.
It also got into censorship trouble in America to when it was denied a MPAA seal of approval because of a scene between Reed and White that implies oral sex. So Universal distributed the film through a non-MPAA-signatory company. This and a similar scene in Charlie Bubbles (1967) helped to end the US Production Code and see it replaced by a ratings system.
© Derek Winnert 2017 Classic Movie Review 5898
Check out more reviews on http://derekwinnert.com