I, Tonya **** (2017, Margot Robbie, Sebastian Stan, Allison Janney) – Movie Review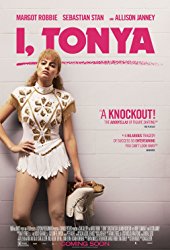 Director Craig Gillespie's bold and tough-toned 2017 movie tackles controversial life story of American competitive ice skater Tonya Harding and casts Margot Robbie, who gives a brave, battling performance, as convincing on the ice rink as she is at her tatty homes, though she does look a tiny bit mature for the role.
You think it is going to be a film about ice skating, but it turns out it is a film about abuse – first parental abuse as it deals with a highly troubled mother daughter relationship between Tonya and her monster mom LaVona Golden (Allison Janney), then marital abuse as it deals with a highly troubled husband and wife relationship between Tonya and Jeff Gillooly (Sebastian Stan).
The monster mommy dearest is quite fond of knocking Tonya about and the husband continues the appalling pattern. And there is emotional abuse two from both characters. This is all quite grim and hard to take over a period of two hours. The Golden Globes nominated it for Best Motion Picture – Musical or Comedy. Yes there is some dark humour and yes there is music on the ice rink, but this is no Musical or Comedy. But very clear, this is a serious-minded film about abuse.
Writer Steven Rogers's story Tonya rises up the ranks at the US Figure Skating Championships, but she allows Gillooly, now her ex-husband, back into her life, in a bizarre plot that endangers her whole career and future.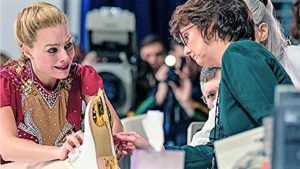 Janney has a monster field day as the monster mom. No wonder she won the Golden Globe for Best Performance by an Actress in a Supporting Role in a Motion Picture. But the film mostly falls on the tough shoulders of Robbie, who is good, but perhaps not quite as good as Janney. Stan is good too, but it's a tough, unforgiving role to play, as Gillooly is portrayed as a thoroughly dislikeable piece of work.
Janney's is not really a Supporting Role, by the way, so that does give a really great chance that she grabs by the throat. She makes a great screen monster. In actual support, Paul Walter Hauser is very entertaining as Stan's friend simple-minded Shawn, who gets Stan and Tonya into a heap of trouble. This late-on development is in some ways the best part of the movie, certainly its satisfying climax, full of life's ironies, or at least Tonya's life's ironies.
Everything is excellent on the technical front – Gillespie's direction, Rogers's screenplay, the costumes, art direction, make-up, editing etc, – all commendable, quite superlative actually.
It opens on 23 February 2018 in the UK.
© Derek Winnert 2018 Movie Review 
Check out more reviews on http://derekwinnert.com