I Don't Want to be Born * (1975, Joan Collins, Ralph Bates, Donald Pleasence, Eileen Atkins) – Classic Movie Review 5858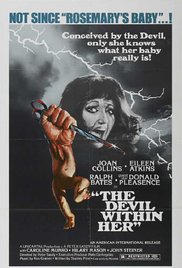 Director Peter Sasdy's 1975 horror movie is a classically tatty example of Seventies British schlock cinema.
Game for absolutely anything, always, old trouper Joan Collins does her stalwart best in one of the parts she may care to forget. She plays Lucy Carlesi, the singer cum stripper who finds she has the Devil within her womb – a mutant homicidal baby – after trying to spurn the advances of an amorous dwarf.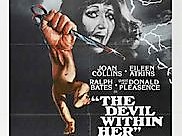 It also stars Ralph Bates as Gino Carlesi, Donald Pleasence as Dr Finch and Eileen Atkins as Sister Albana.
The screenplay by Stanley Price from an original story by Nato De Angeles borrows from It's Alive! and Rosemary's Baby, with their monstrous baby themes. But the film comes up short in almost everything it needs – style, class and horror thrills. This is a gruesome, dated and unintentionally funny exercise in exorcism.
Also in the cast are George Claydon, Caroline Munro, John Steiner, Derek Benfield, Janet Key, Stanley Lebor, Judy Buxton, Andy Secombe, Susan Richards, Phyllis MacMahon and Hilary Mason.
It was trimmed for British cinema release and British TV shows this version.
It is also known as The Monster, The Devil Within Her and Sharon's Baby.
© Derek Winnert 2017 Classic Movie Review 5858
Check out more reviews on http://derekwinnert.com