Husbands and Wives ** (1992, Woody Allen, Mia Farrow, Sydney Pollack, Judy Davis, Juliette Lewis, Liam Neeson) – Classic Movie Review 5728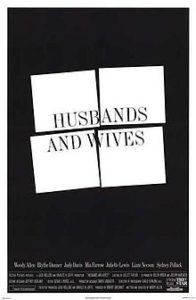 Writer-director-star Woody Allen's 1992 mockumentary film comedy-drama report on the state of modern marriage is depressing and disappointing. It has a heavily autobiographical slant that looks embarrassing in the wake of Allen's family troubles.
However, there were two Oscar nominations – for Best Original Screenplay and Best Supporting Actress (Judy Davis) – and one Bafta win – for Best Original Screenplay. The London Film Critics' Circle voted Judy Davis Actress of the Year.
Allen and Mia Farrow play Gabe and Judy Roth, a married couple with problems – she wants a baby and he wants a fling with his 20-year-old student, Rain (Juliette Lewis). As their marriage gets increasingly strained, they find themselves increasingly attracted to other people.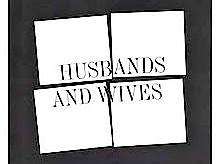 The characters are boring and unattractive, and some seem dragged in simply to poke fun at them. It is all filmed by Carlo di Palma in an ugly semi-documentary style with hand-held camera, zoom shots and jump cutting. It also includes jarring documentary-style one-on-one interviews with the characters interspersed in the story.
To be fair, some of the jokes would certainly seem funny in other circumstances, but here they are swamped in the claustrophobia of ugliness.
How can a film-maker who has produced films of such great beauty have come up with something so scrappy and disturbed? Maybe significantly, the film lacks an attractive role for Farrow, who seems subdued and unsympathetic.
However, looking on the bright side, Judy Davis and Sydney Pollack are stupendous as Jack and Sally, a long-married couple, who announce to their best friends Gabe and Judy that they are going to part.
Also in a typically choice cast are Blythe Danner as Rain's mother, Liam Neeson as Michael Gates, Lysette Anthony, Nora Ephron, Cristi Conaway, Bruce Jay Friedman, Benno Schmidt, Nick Metropolis, Galaxy Craze, Rebecca Glenn, Brian McConnachie and Ron Rifkin.
[Spoiler alert] The film ends with a cut to black as Gabe asks an unseen documentary crew: 'Can I go? Is this over?'
Ironically, in real life, Allen and Farrow never became a married couple, though they did have their problems. The movie was released soon after the end of Allen and Farrow's romantic and professional partnership, and it proved the last of their 13 films together in a partnership that started with A Midsummer Night's Sex Comedy (1982).
On a budget of $20 million, it grossed $10.5 million in North America cinemas.
© Derek Winnert 2017 Classic Movie Review 5728
Check out more reviews on http://derekwinnert.com