How to be Very, Very Popular ** (1955, Betty Grable, Sheree North, Charles Coburn, Robert Cummings, Orson Bean, Tommy Noonan, Fred Clark) – Classic Movie Review 5168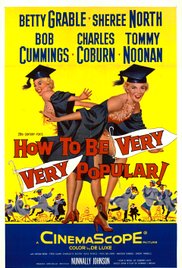 In her final film, aged 39, the Very, Very Popular Betty Grable bows out with writer-director Nunnally Johnson's thin but amiable 1955 comedy, with only one song by Jules Styne and Sammy Cahn – the title number.
Grable and Sheree North are game enough playing strip-dancing song-and-dance girls Stormy Tornado and Curly Flagg, who go on the run and hide in a college fraternity house at at Bristol College after they have witnessed a mob killing of an oriental stripper at their San Francisco cabaret. They both win blokes – Betty gets very mature-looking student 'Wedge' Wedgewood (Robert Cummings) and Sheree gets rich, thick-headed hunk Toby Marshall (Orson Bean).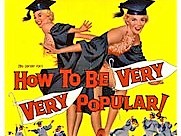 Alas, it is not much of a film and there are no special, noteworthy performances, apart from wily old scene-stealer Charles Coburn, who has no problem running away with the film as the grasping college president.
Grable is pleasing enough but North lights up the CinemaScope screen with her Shake, Rattle and Roll number. Fatally for her film career, Grable apparently clashed with 20th Century Fox studio head Darryl F Zanuck.
With Johnson's screenplay based on the play by Howard Lindsay, it is a remake of Bing Crosby's 1934 film She Loves Me Not.
Also in the cast are Tommy Noonan, Fred Clark, Alice Pierce, Charlotte Austin, Rhys Williams, Andrew Tombes, Noel Toy, Emory Parnell, Harry Carter and Jack Mather.
Curly was planned for Marilyn Monroe, who refused the assignment and was placed on suspension by 20th Century Fox.
© Derek Winnert 2017 Classic Movie Review 5168
Check out more reviews on http://derekwinnert.com