Hold Back the Dawn **** (1941, Charles Boyer, Olivia de Havilland, Paulette Goddard, Victor Francen, Walter Abel, Curt Bois) – Classic Movie Review 4180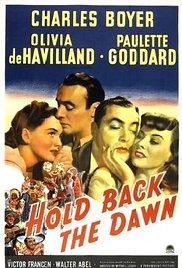 Happily, there is no holding back director Mitchell Leisen's marvellous 1941 vintage romantic comedy, based securely on a top-flight Billy Wilder-Charles Brackett screenplay (based on the story Memo to a Movie Producer by Ketti Frings) that is packed with some of their finest wit and wisdom.
Two all-time great stars are on their best form — Charles Boyer as a foreign gigolo, Georges Iscovescu, and Olivia de Havilland as Emmy Brown, the American schoolmarm he pretends to fall for in order to marry her so that he can obtain the US citizenship he needs to get him through US immigration at the Mexican border.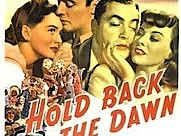 Leisen handles it beautifully, and (in a postmodern touch) also appears as Mr Saxon, the man Boyer tells the film's whole story to on a Paramount studio set. Veronica Lake has a walk-on as a film actress. Song: 'My Boy, My Boy' by Frank Loesser.
Also in the cast are Paulette Goddard, Victor Francen, Walter Abel, Curt Bois, Rosemary DeCamp, Eric Feldary, Nestor Paiva, Micheline Cheirel, Madeleine LeBeau, Mikhail Rasumny, Charles Arnt, Arthur Loft, Norman Ainsley, George Anderson, Gertrude Astor, Leon Belasco, Karin Booth, Alden Stephen Chase, Russ Clark, Chester Clute, Frank Dee, Gordon De Main, Brian Donlevy, Donald Douglas, William D Faralla, Martin Faust, Edward Fielding, Antonio Filauri, James Flavin, John Hamilton, Mitchell Ingraham, Soledad Jimênez, Kitty Kelly, Veronica Lake, Harold Landon, Mala, Francisco Marin, Buddy Messinger, Ella Neal, Mrs Wilfrid North, Jean Phillips,, June Pickerell, Daniel Rea, Henry Rocquemore, Tony Toux, Placido Sequeiros, Harry Shannon, Jesus Topete, Carlos Villarias, Pauline Wagner, Richard Webb, June Wilkins and Sonny Boy Williams.
To Each His Own (1946) is the first of de Havilland's two Oscars, the other being for The Heiress. She was also nominated for Gone with the Wind (1939), Hold Back the Dawn (1941) and The Snake Pit (1948).
© Derek Winnert 2016 Classic Movie Review 4180
Check out more reviews on http://derekwinnert