History of the World: Part I * (1981, Mel Brooks, Dom DeLuise, Madeline Kahn, Harvey Korman, Cloris Leachman, Gregory Hines, Sid Caesar) – Classic Movie Review 4044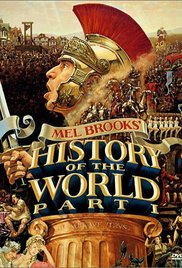 This self-indulgent, smutty 1981 'adult' comedy from the normally gloriously funny Mel Brooks is a near total flop, despite his genial and ever-welcome presence and that of his equally amiable stock company.
It is sad to report that Dom DeLuise as the Emperor Nero, Madeline Kahn as the Empress Nympho, Harvey Korman as Count de Monet, and Cloris Leachman as Madame DeFarge) are all more or less defeated by Brooks's tatty, thread-bare screenplay.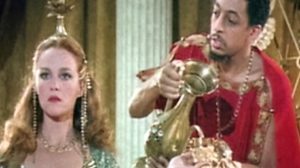 It unfolds in a series of grubby comic stories from the Stone Age to the French Revolution, via the Roman Empire and the Spanish Inquisition. The script and acting are as obvious as they are unfunny in Brooks's first dud after a brilliant run in the Seventies. Brooks enjoys himself five roles: Moses, Comicus, Torquemada, Jacques and Louis XIV. Orson Welles narrates. It is Gregory Hines's film début (as Josephus). The three four-letter words are edited out in the TV version.
You can't argue with a cast that also includes Sid Caesar, Pamela Stevenson, Henny Youngman, Ron Carey, Spike Milligan, Shecky Greene, Mary-Margaret Humes, Rudy De Luca, Paul Mazursky, Ron Clark, Jack Riley, Art Metrano, Fritz Feld, Hugh M Hefner (Entrepreneur – The Roman Empire), Charles Tomas Murphy, Jackie Mason, Phil Leeds, John Hillerman, Andrew Sachs, Fiona Richmond, Nigel Hawthorne, Royce Mills, Beatrice Arthur and Albert Whitlock. Oh, yes, it is maybe worth a look for the cast.
Brooks's Spaceballs followed in 1987, which is at least some improvement.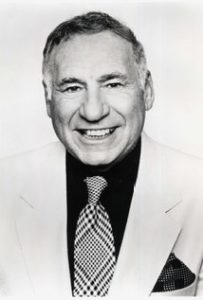 Mel Brooks turned 90 on June 28 1926. He won an Oscar (shared with Gene Wilder) for his screenplay of Young Frankenstein (1974).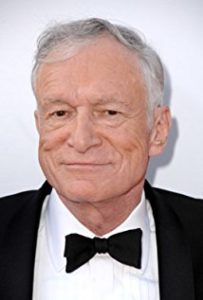 Hugh Hefner, the founder of Playboy magazine, died on 27 September 2017, aged 91.
© Derek Winnert 2016 Classic Movie Review 4044
Check out more reviews on http://derekwinnert