High School High * (1997, Jon Lovitz, Tia Carriere, Louise Fletcher, John Neville, Mekhi Phifer) – Classic Movie Review 4995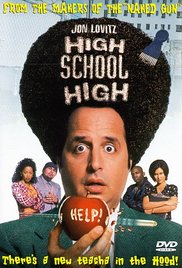 Director Hart Bochner's 1997 Zucker Brothers comedy is an impressively awful parody of Michelle Pfeiffer's 1995 school film Dangerous Minds, with a charmless performance by Jon Lovitz, playing Richard Clark, the posh son of headmaster Thaddeus Clark (John Neville).
Richard Clark is the new teacher in the Hood, taming the kids, wooing co-worker Victoria Chapell (Tia Carriere) and discovering a scam linked to acting principal Evelyn Doyle (Louise Fletcher).
Writers David Zucker, Robert N LoCash and Pat Proft come up with the worst parody since Silence of the Hams, and it is several notches down even from that. The script is virtually joke free, desperate and pathetic, and some sympathy has to be extended to fine players Fletcher and Neville, down on ther luck.
You wouldn't mind that it was mindless, offensive and juvenile  – indeed you would expect it – if there were any inkling of mirth anywhere. A bewildered-looking Lovitz seems exposed (indeed he bares his backside) in a leading role. And I missed exactly why he is cast in the Ms Pfeiffer role.
Sorry, it is High School Low.
Also in the cast are Mekhi Phifer, Malinda Williams, Guillermo Dîaz, Lexie Bighma, Brian Hooks, Natasha Gregson Wagner, Marco Rodrîguez, Nicholas Worth, Eric Allan Kramer, Lu Elrod, Eve Sigall and Michael Nye.
© Derek Winnert 2017 Classic Movie Review 4995
Check out more reviews on http://derekwinnert.com