High School Confidential! [Young Hellions] ** (1958, Mamie Van Doren, Russ Tamblyn, Jan Sterling, John Drew Barrymore,, Jackie Coogan, Michael Landon) – Classic Movie Review 4963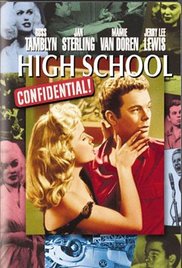 Russ Tamblyn stars as an incredibly unlikely investigator into the corrupt High School youth of the day taking marijuana at Santo Bello High, in director Jack Arnold's spectacularly trashy – and now funny – 1958 exposé drama.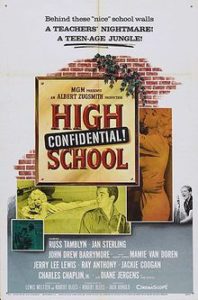 Though it is really badly done, it is worth a look for the extraordinary cast, and to laugh at the hysterically naive attitudes of the time that it gleefully peddles. It has a small cult following for its high camp value. It is listed in The Official Razzie Movie Guide as one of The 100 Most Enjoyably Bad Movies Ever Made.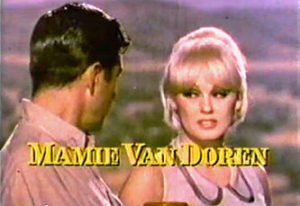 It also stars Mamie Van Doren, Jan Sterling, John Drew Barrymore, Michael Landon, Jackie Coogan, Diane Jergens, Ray Anthony, and Charles Chaplin Jr.
Jerry Lee Lewis opens the movie singing his title track High School Confidential!, which he co-wrote with Ron Hargrave, which became a Top 40 hit, reaching number 21 in the US charts.
This is an extremely oddball outing for the normally cosy studio MGM, though more typical of its producer Albert Zugsmith.
It was a hit though, making a profit of $578,000 on a $532,000, and College Confidential, The Beat Generation and Platinum High School followed.
Also in the cast are Lyle Talbot, William Wellman Jr, Jody Fair, Robin Raymond, James Todd, Joe Foster and Pierre Watkin.
Van Doren is also well remembered for the rock 'n' roll, juvenile delinquency, exploitation movie Untamed Youth.
© Derek Winnert 2017 Classic Movie Review 4963
Check out more reviews on http://derekwinnert.com