Henry V ***** (1944, Laurence Olivier, Renée Asherson, Robert Newton, Leslie Banks, Esmond Knight, Leo Genn, Felix Aylmer, George Cole) – Classic Movie Review 138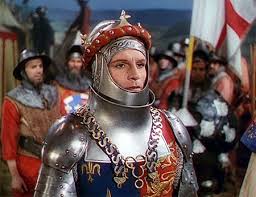 Laurence Olivier's inspired and stirring version of the popular historical play by William Shakespeare is a personal triumph for him, a highlight of his life and career. It's the definitive and classic movie of the play, with Olivier doing a magnificent job in a tour-de-force as actor, director, co-writer and co-producer.
Though he less than heroically fell off his horse and was badly injured while making the film, on celluloid his performance is dashingly heroic. His acting is glorious, and Shakespeare's verse is beautifully spoken by him, as well by as the other ideally cast actors.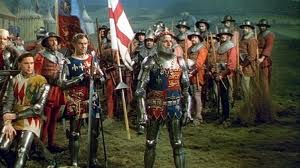 Making his début as film director, Olivier undertakes a bold experiment by starting the film in a set of Shakespeare's Globe Theatre and then switching spectacularly to realistic settings. His dynamic staging of the 1415 Battle of Agincourt on St Crispin's Day (Friday 25 October) as the English take on the French during the Hundred Years War is as breathtaking as anything in British cinema ('The biggest battle ever staged, now see it on WIDE SCREEN!' screamed the posters.)
The story sees the dissolute young Henry developing into the great leader England needs at its hour of crisis. He becomes a resourceful, resolute king, uniting England's factions to crush the French against appalling odds. In the peace treaty that follows, he is betrothed to Princess Katherine (Renée Asherson).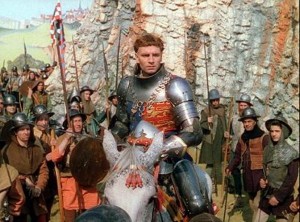 It's a great story, rousingly told, employing the finest technicians and artists of the day. There is marvellous Technicolor cinematography by Robert Krasker and Jack Hildyard, splendid colour art direction/interior decoration by Paul Sheriff and Carmen Dillon and stirring, properly patriotic-sounding music by William Walton, played by the London Symphony Orchestra.
Made in 1944 at the height of World War Two, the film, of course, was a veiled wartime call to arms against the invading Germans, as well as a morale-booster for British troops. It's the perfect reflection of the bulldog spirit of Premier Winston Churchill, the enduring spirit of the nation later taught to the new younger generation that followed the war, until the culture changed with the arrival of the Angry Young Man plays in theatre, the realist movement in British books and films, and on to the Swinging Sixties.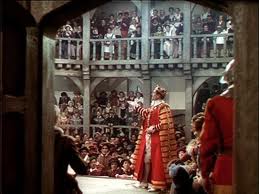 To end on a sour note, astonishingly, there were no Oscar wins and Olivier had to be content with a Special Oscar 'for his outstanding achievement as actor, producer and director in bringing Henry V to the screen'. He was overlooked after being nominated for best actor and his film as best film. The score and art direction were also nominated. There wasn't even a nomination for the cinematography.
Also in the cast are Robert Newton, Esmond Knight, Leo Genn, Felix Aylmer, Leslie Banks, George Robey, Ernest Thesiger, John Laurie, Ralph Truman, Ivy St Helier, Harcourt Williams, Max Adrian, Valentine Dyall, Roy Emerton, Francis Lister, Russell Thorndike, Michael Shepley, Morland Graham, Gerald Case, Robert Helpmann, Freda Jackson, Jimmy Hanley, Niall MacGinnis, Griffith Jones, Arthur Hambling, Vernon Greeves, Nicholas Hannen, Ralph Truman, George Cole (as Boy), Russell Thorndike, Frank Tickle, Janet Burnell, Brian Nissen Arthur Hambling, Ernest Hare and Frederick Cooper.
It is also known as The Chronicle History of King Henry the Fifth with His Battell Fought at Agincourt in France.
Kenneth Branagh's version of Henry V followed in 1989.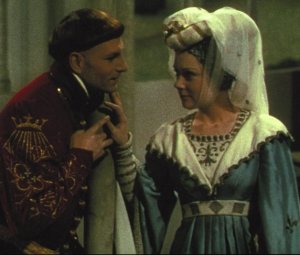 London-born Renée Asherson (aka Dorothy Renée Ascherson) died on October 30 2014 at the grand old age of 99. She was last seen on the big screen in Richard Attenborough's Grey Owl (1999) and in Alejandro Amenábar's supernatural drama The Others (2001), starring Nicole Kidman.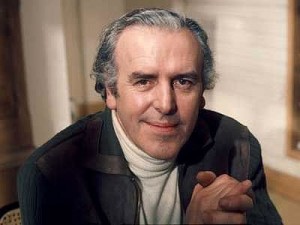 George Cole was the last surviving cast member after Asherson's death. He died on August 5 2015, aged 90. Adieu, dear departed.
http://derekwinnert.com/henry-v-1989-kenneth-branagh-derek-jacobi-judi-dench-emma-thompson-classic-movie-review-2092/
© Derek Winnert 2013 Classic Movie Review 138
Check out more reviews on http://derekwinnert.com/