Hellzapoppin' **** (1941, Ole Olsen, Chic Johnson, Martha Raye, Jane Frazee, Mischa Auer) – Classic Movie Review 6121
Nat Perrin's Forties Broadway revue's anarchic spirit is transferred effectively to the screen in director H C Potter's hilarious, inventive 1942 madcap movie. Breathlessly zesty, it is one of the greatest movies about making movies.
It features Long Island girl Kitty Rand (Jane Frazee) putting on a show in her back yard, daffy vaudevillian stage comedians Ole Olsen and Chic Johnson (as themselves) making a movie out of their theatre play, and Betty Johnson (Martha Raye) pursuing Russian count Pepi (Mischa Auer).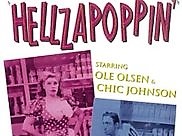 It is a genuinely funny movie, and the performances throughout are highly amusing, but much of the credit goes to inventive comedy director Potter, who keeps it all poppin' like a firecracker.
The movie's spirit is commendably wacky, and, old as it is, it all still feels splendidly modern, with its gleeful breaking of the fourth wall.
The hit song is 'Pig Foote Pete'!
Also in the cast are Robert Paige, Lewis Howard, Clarence Kolb, Nella Walker, Richard Lane, Hugh Herbert, Elisha Cook Jr, Olive Hatch, Shemp Howard, Andrew Tombes, George Davis, Hal K Dawson, Frank Darien, Eddie Acuff, Billy Curtis, Harry Monty, Don Brodie, Gil Perkins, Dale Van Sickel, Gus Schilling, Sig Arno, Bert Roach, George Chandler, Bess Flowers and Rex Stewart.
The Universal release runs 92 minutes. The screenplay is by Nat Perrin and Warren Wilson, it is shot in black and white by Elwood Bredell, is produced by Jules Levy and Alex Gottlieb, is scored by Frank Skinner, Don Raye, Gene de Paul and Charles Previn, and choreographed by Nick Castle.
© Derek Winnert 2017 Classic Movie Review 6121
Check out more reviews on http://derekwinnert.com