Hell or High Water **** (2016, Jeff Bridges, Chris Pine, Ben Foster, Gil Birmingham, John-Paul Howard, Marin Ireland, Dale Dickey) – Movie Review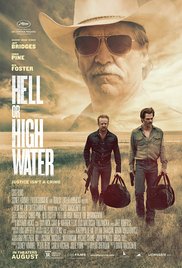 Jeff Bridges stars as bad-tempered, well crusty, old sheriff Marcus Hamilton, who with his buddy Mexican Indian cop Alberto Parker (Gil Birmingham) is doggedly on the trail of divorced dad Toby Howard and his ex-con brother Tanner, who are robbing banks to save their family's ranch in West Texas. Their mother has died, leaving her house in lien to the bank, and Toby means to get the money in time by hell or high water to give to his two estranged sons so they can have a better life than his.
It is, of course, a Western in a modern-day setting, turned into a Texas noir heist thriller and with a modern-day agenda about the heartlessness of banks, and they way they damage the little people. That's their customers, you and me.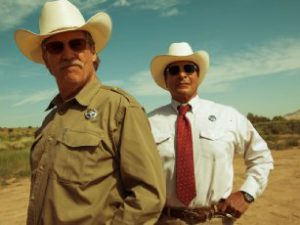 As the grizzled geezer, Bridges hugely himself in a richly hammy star turn that is most entertaining and satisfying, but short of truthful, leaving Chris Pine and Ben Foster to do the real, serious acting as the brothers, Pine apparently calm and controlled (except one time when he goes mad with gun-crazy kids at a garage), Foster wacko and way out of control. Both of them are good, and good together. All three actors nail it in possible award-winning turns, and Birmingham is excellent too as straight man to Bridges's dark-tinged comedy turn.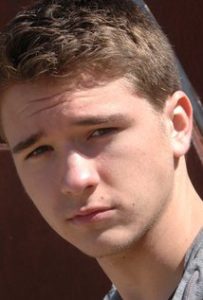 John-Paul Howard has a nice little role towards the end as Toby's son Justin Howard, with Marin Ireland as the estranged wife Debbie. And the small roles are splendidly populated by quirky character actors who make it all seem so 'real', so important for texture and entertainment value too.
It is an old story, but it is retold freshly by screenwriter Taylor Sheridan (the writer of Sicario), with great character writing and great dialogue. And it is beautifully handled by British director David Mackenzie, from Young Adam (2003), Starred Up (2013) and Hallam Foe (2007), with a pace, atmosphere, mood and intensity all conjured up in a richly satisfying manner. He stages the robberies and chases with huge skill and max tension. He doesn't put a foot wrong. Actually every footstep is right.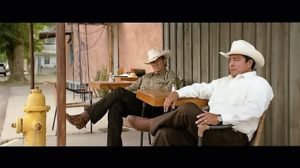 It is one of those movies where you have to mention the outstanding, painterly cinematography by Giles Nuttgens, making the most of those quirky New Mexico locations, and the moody music by Nick Cave and Warren Ellis. How good and classy are they! Twelve producers are credited, presumably to help Brits film in the States.
It is a small-medium range film, made on a careful $12 million budget, but it has done well to take $26.5 million in the US. So worldwide it should make a nice little profit. It is important that these kinds of films get made and are successes, or there will just be blockbusters and micro-budget indies left.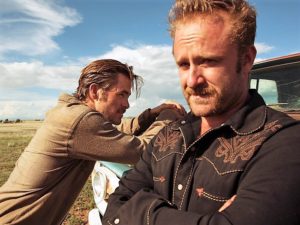 Don't believe the over-hype of five star reviews on the adverts, or the hyperbole quotes of 'best film of 2016 so far' or 'a modern masterpiece'. Do believe reviews that say four stars, 'muscular', 'smart' and 'gripping'. It is a very good film, worth several viewings.
It is nominated for four Oscars: Best Motion Picture, Best Performance by an Actor in a Supporting Role (Bridges, though he is the star), Best Original Screenplay and Best Film Editing.
© Derek Winnert 2016 Movie Review
Check out more reviews on http://derekwinnert.com