Harry Potter and the Philosopher's Stone [Harry Potter and the Sorcerer's Stone] **** (2001, Daniel Radcliffe, Rupert Grint, Emma Watson, Richard Harris, Maggie Smith, Alan Rickman) – Classic Movie Review 512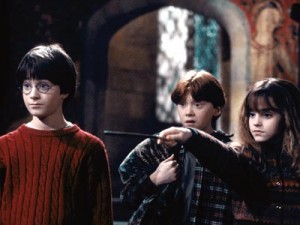 The very first Harry Potter movie! Director Chris Columbus's 2001 film version of J K Rowling's story about the schoolboy with magical powers broke box-office records and became the second highest-grossing movie of all time (after Titanic).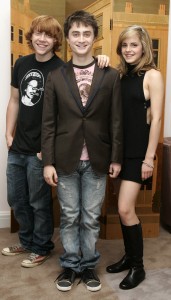 Little Daniel Radcliffe is an absolute wizard as Harry, who is first found under the stairs where he's forced to sleep by his wicked aunt and uncle. But high adventure is assured on Harry's eleventh birthday when he learns that he's the orphaned son of wizards – and is a bit of a wiz himself.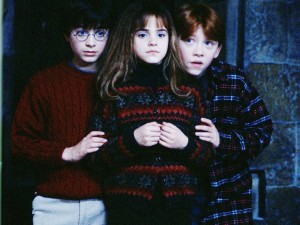 Magic invites arrive for him to leave the boring world of Surrey and join other budding sorcerers at the eerie Hogwarts School of Witchcraft and Wizardry. As the school is run by none other than Richard Harris (as Professor Albus Dumbledore) and Maggie Smith (as Professor Minerva McGonagall), you can just imagine the amount of camp overacting going on there, though even these two are put in the shade by Alan Rickman's shifty and supercilious Professor Severus Snape.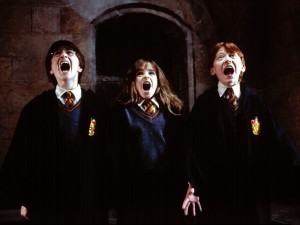 If all the acting is safe in the hands of British Equity's most respected members, the film stands or falls on the young shoulders of its three child stars.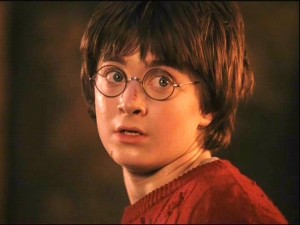 Picked out by Rowling herself, Radcliffe proves a winner and Rupert Grint and Emma Watson are ideal as Harry's school chums, Ron Weasley and Hermione Granger.
With a gleaming production, nifty special effects and a cute score, Rowling's spiffing story hits the screen in the most spectacular way. You'd have to be a total Scrooge not to thrill to this one. There are a few scary moments and some mild language.
Fiona Shaw plays Petunia Dursley, Harry Potter's aunt, and also in Harry Potter and the Chamber of Secrets (2002), Harry Potter and the Prisoner of Azkaban (2004), Harry Potter and the Order of the Phoenix (2007), Harry Potter and the Deathly Hallows: Part 1 (2010). 'I had a ball doing Harry Potter,' she said.
Also in the cast are Robbie Coltrane, Miriam Margolyes, Zoë Wanamaker, Harry Melling, Richard Griffiths, Derek Deadman, Ian Hart, Ben Borowiecki, Warwick Davis, Verne Troyer, John Hurt, Geraldine Sommerville, Harry Taylor, Julie Walters, Chris Rankin, James Phelps, Oliver Phelps, Jean Southern, Matthew Lewis, Tom Felton, Jamie Waylett, Josh Herdman, Devon Murray, Alfred Enoch, Leslie Phillips, Eleanor Columbus, John Cleese, Terence Bayler, Elizabeth Spriggs, Danielle Taylor, Will Theakston, Scott Fern, Adrian Rawlins and Ray Feranon.
It runs extended version.
It grossed $317 million in the US on a cost of $125 million.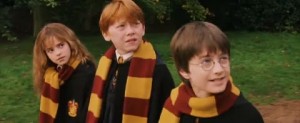 Steven Spielberg: 'Directing Harry Potter would have been a business decision, not a challenge.' Terry Gilliam was Rowling's favourite to direct, but the studio picked Chris Columbus because he had experience directing child actors.
First sequel: Harry Potter and the Chamber of Secrets (2002).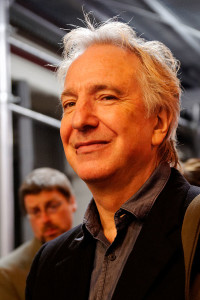 Alan Rickman died on 14 January 2016 at the age of 69. Famous for roles in Harry Potter as Professor Snape and Love Actually, he shot to stardom in 1988 as Hans Gruber in Die Hard and as the Sheriff of Nottingham in Robin Hood, Prince of Thieves, and won BAFTA, Golden Globe, Emmy and Screen Actors Guild awards in a glittering four-decade career.
His other roles include Jamie in Truly, Madly, Deeply, Colonel Brandon in Ang Lee's 1995 film Sense and Sensibility, P. L. O'Hara in An Awfully Big Adventure and Judge Turpin in Sweeney Todd: The Demon Barber of Fleet Street, as well as roles in Dogma, Galaxy Quest and Perfume.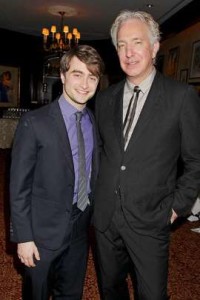 He continued to play Snape through to the eighth and last movie Harry Potter and the Deathly Hallows: Part 2 (2011). Despite being J K Rowling's personal favourite and first choice (she even envisioned him when writing the character), he won the role only after the studio's preferred choice Tim Roth backed out to star in Planet of the Apes (2001).
Radcliffe said: 'He was one of the first of the adults on Potter to treat me like a peer rather than a child. Working with him at such a formative age was incredibly important and I will carry the lessons he taught me for the rest of my life and career. Film sets and theatre stages are all far poorer for the loss of this great actor and man.'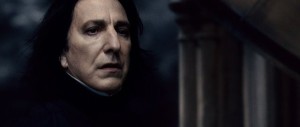 http://derekwinnert.com/harry-potter-and-the-chamber-of-secrets-classic-film-review-513/
© Derek Winnert 2013 Classic Film Review 512 derekwinnert.com