Harry Potter and the Deathly Hallows Part 2 **** (2011, Daniel Radcliffe, Rupert Grint, Emma Watson, Maggie Smith, Alan Rickman, Ralph Fiennes, John Hurt) – Classic Movie Review 583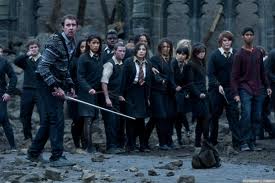 It all ends. After this final movie in 2011, school's out for good and there's no Hogwarts! In the last chapter, Harry (Daniel Radcliffe), Ron (Rupert Grint) and Hermione (Emma Watson) continue their quest to find and destroy the three missing horcruxes to bring down the evil Dark Lord Voldemort (Ralph Fiennes), whose immortality depends on the magical items. Let battle commence as the mystical Deathly Hallows are uncovered, and Voldemort finds out about their quest.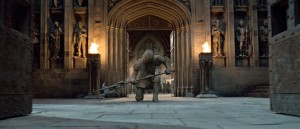 The question is, is Voldemort going to kill Harry Potter? Well, he's certainly going to try to. Some time before the final book was published, Radcliffe asked J.K. Rowling whether Harry would die at the end. After a silence, Rowling gave him the cryptic answer 'You get a death scene'.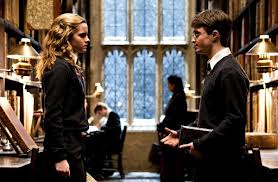 The final chapter properly belongs to Radcliffe's Harry, and the 22-year-old is fully up to any challenge, though Grint and Watson are more like loyal sidekicks this time, fulfilling that function well, and fleshing out the background.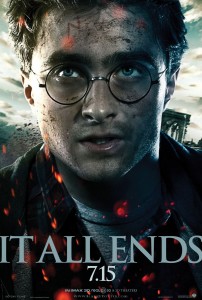 Among the huge cast, outstanding this time are Alan Rickman as Professor Snape, Maggie Smith as Professor Minerva McGonagall, Evanna Lynch as Luna Lovegood, Domhnall Gleeson as Bill Weasley, John Hurt as Ollivander (returning after the longest gap in the series of nine years), Helena Bonham Carter as Bellatrix Lestrange, Julie Walters as Molly Weasley ('Not my daughter you bitch!') and Matthew Lewis as Neville Longbottom. The casting of all Equity's finest, both old and new, throughout the series is lovely and they give their usual 110 per cent.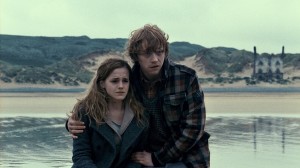 Though it's not on the scale of The Lord of the Rings final battle, the pepped-up dynamic climax will satisfy everyone, and the Potter crew have pulled off the difficult feat of maintaining the series' quality to the end. David Yates's polished direction and screenwriter Steve Kloves's smooth adaptation of J K Rowling's books are behind the success here. Also notable are the art direction, visual effects and makeup, all Oscar nominated. The visual effects won a Bafta, its only award.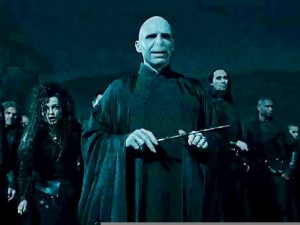 Radcliffe was wrong about one thing: 'I don't think it's going to happen. I don't think I'll do all of them. I'll probably get too spotty or too tall or I'll shrink or something.' He is said to have received $33 million for this film, adding to the $20 million he got for Part I.
This is the only Harry Potter film to be released in 3D in cinemas in its entirety.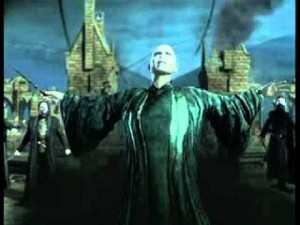 Emma Watson and Rupert Grint have stated that filming their much awaited on-screen kiss was an 'absolutely horrible' experience, since Emma said Rupert was 'like a brother'.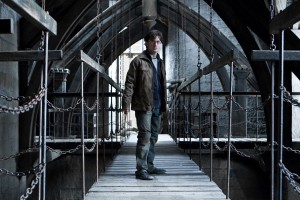 Daniel Radcliffe, Rupert Grint, Emma Watson, Alan Rickman, Bonnie Wright, Devon Murray, Geraldine Somerville, James Phelps, Oliver Phelps, Matthew Lewis, Robbie Coltrane, Tom Felton, Josh Herdman and Warwick Davis are the only actors to have appeared in all eight movies.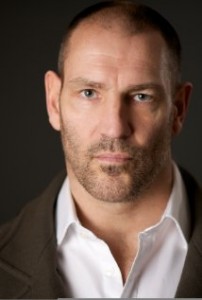 Dave Legeno, who plays the werewolf Fenrir Greyback in Harry Potter and the Half Blood Prince, and in Harry Potter and the Deathly Hollows Parts 1 and 2, died while hiking in Death Valley, California, on , age 50.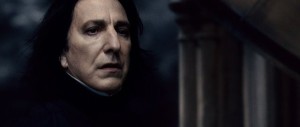 Treasured acting icon Alan Rickman died of cancer on January 14 2016, aged 69.
http://derekwinnert.com/harry-potter-and-the-half-blood-prince-classic-film-review-534/
http://derekwinnert.com/harry-potter-and-the-deathly-hallows-part-i-classic-film-review-578/
© Derek Winnert 2013 Classic Movie Review 583 derekwinnert.com
Check out more reviews on http://derekwinnert.com/