Hammersmith Is Out *** (1972, Elizabeth Taylor, Richard Burton, Peter Ustinov, Beau Bridges) – Classic Movie Review 6549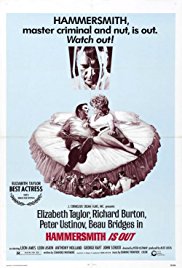 Director-star Peter Ustinov's 1972 black comedy thriller is one heck of a really odd movie, with Richard Burton as Hammersmith, a crazed mental patient in unstable doctor Peter Ustinov's institution, who persuades innocent orderly/ nurse Billy Breedlove (Beau Bridges) to set him free, promising him riches to escape. And so Hammersmith Is Out.
[Spolier alert] Eventually Burton's Hammersmith becomes an important, influential ambassador while Bridges's Breedlove ends up in a wheelchair. Elizabeth Taylor is hilarious as a foul-mouthed waitress called Jimmie Jean Jackson.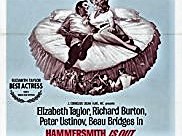 Director Ustinov's loose reworking of the Faust legend with an element of caper send-up is not exactly a huge success. But it is strangely endearing and it does have its funny moments. Certainly the stars seem to be enjoying themselves, and that is infectious. Box-office wise, it lit no fires and was another nail in the coffin of the Taylor-Burton wife and husband star teaming.
This forgotten oddity is written by Stanford Whitmore, shot by Richard H Kline, produced by Alex Lucas and scored by Dominic Frontière
Also in the cast are Leon Ames, John Schuck, George Raft, Leon Askin and Marjorie Eaton.
© Derek Winnert 2018 Classic Movie Review 6548
Check out more reviews on http://derekwinnert.com
© Derek Winnert 2018 Classic Movie Review 6549
Check out more reviews on http://derekwinnert.com